A Week Vidanta Nuevo Vallarta Resort Itinerary - Part One
Nuevo Vallarta -On Resort Activities - The Arrival
Dinner at Burgers Custom Made. We recommend you call for a reservation as soon as you check in. You can finish your first evening in paradise with the best cheesecake I have had in years.This is the perfect place to eat outside unless it is quite windy.
Go for a walk in the landscaped gardens by the ocean. Stay out long enough to realize you are in a tropical paradise. The paths are all elegantly lit.
Day one
The very first thing , and this is critically important. SLEEP IN ! You will wake up between 6:30 and 7 AM. You have nothing you are required to do. Snuggle up and go back to sleep.
Get up and go to the Samba or the Café del Lago. Here is an Insiders Secret. You don't have to do the buffet every time, so today you can order a simple breakfast off the menu. Save the buffet for tomorrow.
Ok, don't hurry, you're on vacation, but get on your swimming suit and head to the pool area and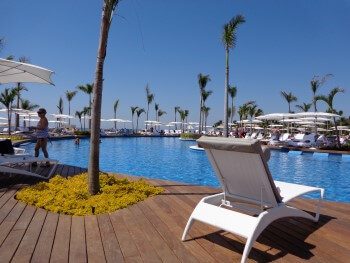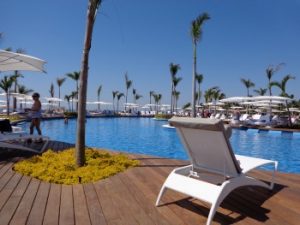 grab some seats. You had a late lunch, so you can just have nachos that the beautiful young woman brought you. Happy hour will be here before you know it. Yes, it's Mexico, you can have a piña colada at noon.
It is now time to do the ritual. If at any time during the week you wonder what to do, you can do the ritual. Here it is:
The Ritual
Lay in the shade or in the sun according to your preference. You can read a book or close your eyes and tell yourself there is no email important enough to interrupt your peace and quiet
When you get uncomfortably warm. Swim across the pool and back. Get out and drip dry .
Repeat Step #1
Rinse / Repeat
Back to your room for a relaxing shower.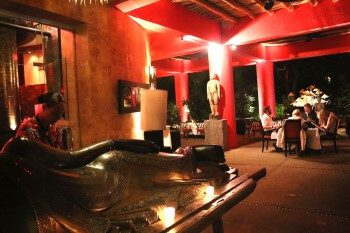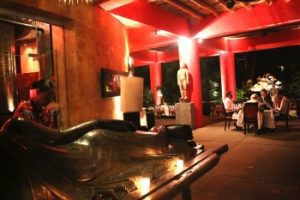 Dinner tonight at the Gong ( you did make reservations yesterday when you arrived , right?) You don't need the sushi if you are having an appetizer. But you really can't resist it. Maybe you can skip dessert. Just dream about the cheese cake you had last night.
Day Two
Since you skipped dessert last night, you can splurge and do the full buffet at Café del Lago. There are other buffets , but they all pale in comparison. Some of our favorites:
John's Favorites Linda's Favorites
Custom Omelette Cheese Empanada
Fresh Fruit Crepes with strawberries and cream
California Roll Fresh Fruit
Crepes with nutella The bacon hidden behind the counter
The weird green juice Carafe of coffee that stays hot
Chilaquiles verde Unique little bitefuls of all sorts of creative food
And that's just for starters.
So you won't be needing Lunch today. And Dinner is currently in question as well.
You have some interesting options for the afternoon.
Conversational Spanish lessons are offered a few days of the week
Water aerobics are offered almost every day
There is a kids club every day, so check out which activities your kids might want to participate in.
At the spa there are a variety of classes. There is a fee for these, well worth it to balance out your vacation. If you are not fully unwound yet (evidenced by checking your phone frequently, walking fast like you are going to be late, tapping your toe while at rest) you should consider repeating "the ritual" described earlier for day one.
However you spend the afternoon, you will gradually recover from breakfast and start thinking about dinner. Tonight might be a good night to check out the Chiringuito Tapas restaurant. If you don't have grand bliss or grand luxxe bands you may be questioned by security people, just tell them you are going to the restaurant.
Day Three
Now that you have caught up on sleep and started to unwind, there are a variety of morning activities available. You could take a Learn to Golf lesson or a Perfect your Swing lesson at the Jack Nicklaus Academy (this is only at the Nuevo Vallarta Resort). Or simply go out and golf 9 or 18 holes. Make sure to reserve tee times before you get the resort.
No interest in golf? No problem. Take a long walk on the beach. Opposed to any physical activity? Fine,, try out the Azur French restaurant for an elegant breakfast with a spectacular view. The options are almost unlimited.
Maybe spend your late morning posting some photos to facebook. Don't forget to mention your friends at MayanRental. 😀
If you are in Nuevo Valla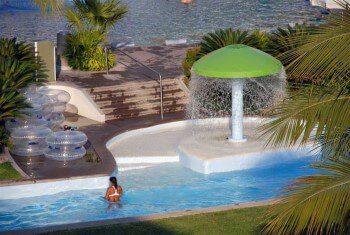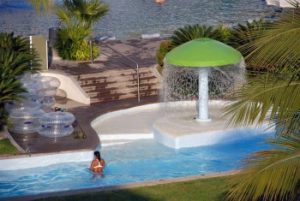 rta , today is the day to hit the Grand Mayan lazy river. If you own a Go Pro don't forget to take it along for some fun footage. Take at least two laps . Something about floating with a current that will take any remaining stress away.
Lunch can be a Peruvian Ceviche and a plate of nachos served to you at poolside with an adult beverage of your choice.
This afternoon is the perfect time to find a palapa or relax on your balcony and break out the book or that stack of magazines you brought to enjoy. You should now be unwound enough to sit still and enjoy reading.
Smile in anticipation, you've reserve an elegant dinner at the Tramonto Italian Restaurant tonight. (This one is popular, reserve it and the Gong the first day you arrive.) Vidanta is top of the heap for Resorts in Mexico and are great places for Mexico Vacations. You can read Nuevo Vallarta Vidanta Intinerary Part Two Here