Good Swimming Beaches in Los Cabos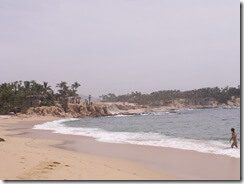 The sun is always shining, perfect day for the beach. What??? The currents are too treacherous? Welcome to the tip of the Baja where the Pacific Ocean and the Sea of Cortes collide. Not to worry, there are some excellent beaches, they are just a little tricky to find.
The first two I'm going to tell you about are on corridor between San Jose del Cabo and Cabo San Lucas.  They are not really marked well, but the first one is called Playa Santa Maraia and is between kilometer marker 12 and 13.  I'm going to go ahead and assume you know it is on the ocean side.  Sheltered from the currents, this is a beautiful beach for swimming and snorkeling.
The second beach is Playa Chilenos.  There is a gravel parking lot with no real trail markings between kilometer markers 14 and 15.  Again,  beautiful once you find it.
The third beach is called Playa Cerritos. It is on the road north out of cabo san lucas (hwy 19) around kilometer 65.  They just don't seem to mark beaches around here !!  This one is a surfing beach with a very strong current, but not as dangerous as the beaches at many of the resorts.  After going down the wrong two track once,  you will find the parking lot and here in the middle of no where with a bar  called Cerritos Beach Club !!with a big Harley sitting in the middle between the plasma TV and the pool table.   There is even wireless and they will loan you a laptop !!!  I read somewhere there is even live jazz on Sundays!!