Nuevo Vallarta Trip Report 2016 - part 1
We just finished a week in Grand Mayan Los Cabos and the only way to get to Puerto Vallarta is through Mexico City.  We had uneventful flights and caught the shuttle to Alamo car rental.  In our experience , Alamo is clearly the best option for car rental in Mexico. click here to see how to do it.
We had dinner on the resort at the Grand Luxxe restaurant - Burgers custom made   Ok. So so the name seems to have lost something in translation and it doesn't sound that classy.  However, it really is one of the  best restaurants on the Nuevo Vallarta Vidanta resort.  (Yes, now it is called Vidanta instead of Mayan, which is a small problem for us since our business is Mayanrental).    Everything we ordered was good, but the desserts were over the top.   The cheesecake was the best I have had in years.   Seriously.
Sunday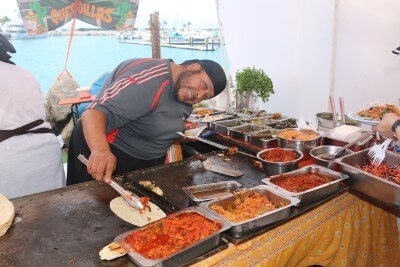 We discovered and reviewed the La Cruz Sunday market last year  It is a fun combination of food, crafts and live music.  If you look closely , you will see that we got quesadillas from the same guy at the end of the pier.   Live music this year was jam band style and they were very good.
We came back to the resort and then broke out of the resort again to walk to Guido's for dinner.  I am in a rut and seem to always get the Chicken Pollo Pesto Pasta.  It is so good.   Linda and our new son-in-law both got lasagna and it was also very good.    Never go to Guido's if you are in a big hurry.
On another note, we are sorry that the Por Que No restaurant failed.   But Eddie had told us that we could get the same fabulous Spanish Coffee at his original restaurant "Eddies Nopal Beach".   We are very sad to report that Eddie died last fall, but it is good that his restaurant carries on with his son in charge. So  we skipped dessert at Guido's and walked down the street to Eddie's and ordered Spanish coffee.  Turns out our waiter had worked at Por Que No and did the whole "pour fire down from on high standing on a chair" show.  Not only is it a great show, but it tastes fabulous !   Check out our Spanish Coffee Video.  Great end to a relaxing day.
Rather than walk up the beach to the resort we took a taxi for 85 pesos , (currently less than 5 dollars).
Here are a couple more photos from the La Cruz Market on a Sunday in March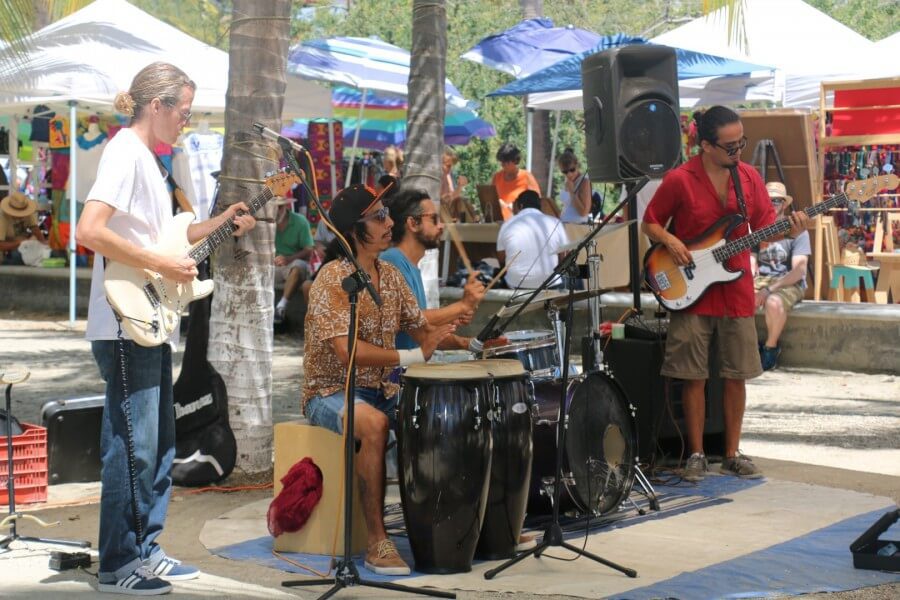 Daughter and Son-in-Law enjoying the street food in La Cruz