Snorkel from the Beach in Akumal
You will have guessed by now we love to snorkel.   I will get to other activities in a few posts, I promise. we almost always rent a car in Mexico. It was a fairly short drive from the Grand Mayan Cancun through Playa del Carment to Akumal.
A few miles down the road from Playa del Carmen, you can't miss the main entrance to the small resort town of Akumal.  As soon as you go through the archway that marks the entrance, there is a parking lot with a small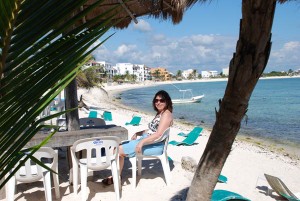 parking fee.   If you walk to the beach fro here, you will be in the southern bay of Akumal that is grassy and has no coral, but you are much more likely to see sea turtles.  Our preference is to follow the road left (north) along the beach.  you will
see the Buena Vida (Good Life ) restaurant and immediately following that a dive shop.  This is the place you are looking for.   Park on the street.  You are now about 100 feet from a beach paradise.  Rent some equipment at the dive shop , if they aren't out on a dive.  Walk onto the beach and you are looking at the middle of the bay.
This snorkel trip is not for the beginner.  You can start by paddling about 100 yards or so straight out to the reef.  Then you can follow the reef either to the left to the edge of the bay or right to the edge of the bay.  The water gets clea
The Buena Vida restaurant is a great place to sit in Paradise for a while and and get some very acceptable Mexican standards.  Try the guacamole.rer as you get closer to the edges.  You will have to swim around the occasional shallow spots or you will find yourself trapped and scraped up.   There are not huge schools of fish anywhere,  but there is a large variety of fish after you have explored a few patches of reef.  When I did this snorkel, I was lucky enough to interrupt a sea turtle's nap.   He didn't hang around long for an inspection, but it was a nice end to a beautiful free snorkel trip.