Where Do I Go in Playa del Carme
Getting to Playa del Carmen
You really shouldn't visit the Riviera Maya without at least one visit to Playa del Carmen. From the Mayan Resort, you have several options. There are shuttles running most of the day for $5 per person. If you have four people, a taxi is the same price and will take you exactly where you want to go. If you REALLY want to save money, take a shuttle to the front gate, cross the road (carefully !) and wait for a collectivo, a 15 passenger van that will drop you in the middle of Playa for about $2 or $3 per person. Don't worry, if you are a gringo standing by the side of the road, they will stop. If they ask for $5 , that is a shuttle and you won't save any money, wait for the collectivo. Finally, if you have rented a car, just head south for 15 minutes. See more navigational details below.
Where Do I Go to Shop and Eat in Playa del Carmen?
Playa del Carmen is laid out along the Caribbean. The main artery for almost everything is Avenida Cinco (fifth avenue) running north and south a block or so from the beach. Avenida Benito Juarez runs east and west and cuts the city in half. The interesting areas are primarily north of Juarez (toward Cancun) and within a block or two of 5th avenue. The closer you get to Juarez the more cheesy t shirt shops with tacky slogans and cheap shot glasses and sombreros you will find.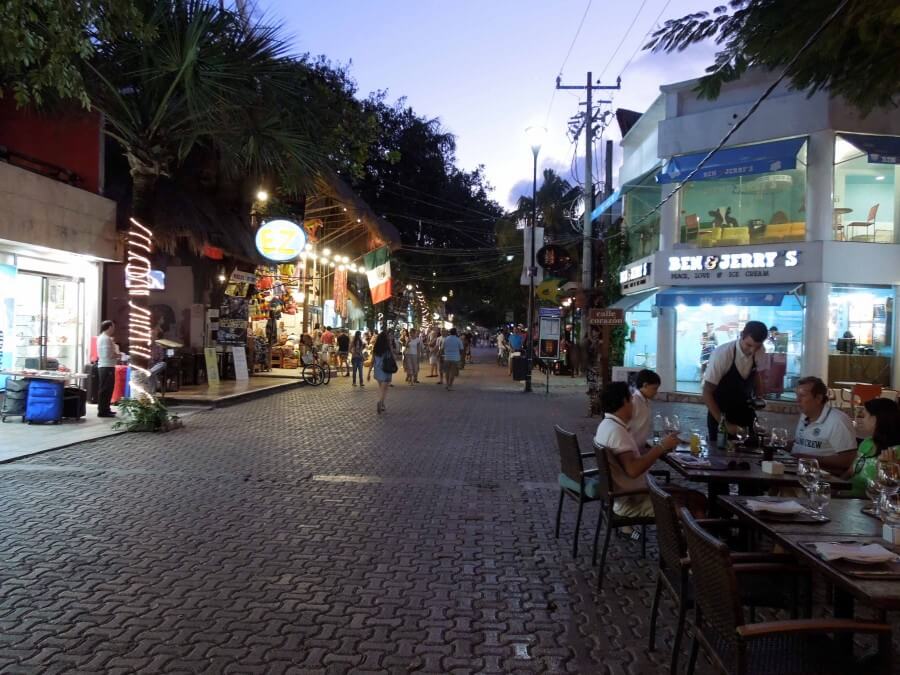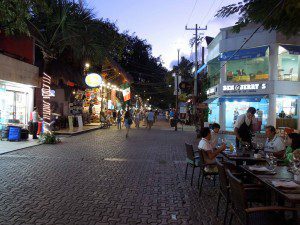 Also more cruise passengers.  We will dedicate the next post to restaurants.
As you go north to Calle 4 to 20, it becomes much more interesting. There are also some great places up around Calle 36 to 42 , but only if you are up for a lot of walking. The Calle 4 to 20 area is packed with good restaurants and interesting shops. You will find cigar shops, tequila shops, jewelry, silver, hand made jewelry (some of the best are in Calle Corazon and alley between 12th and 14th. You can also find resort clothing, swimwear, and of course, cheesy T shirts. Everyone needs at least one.
Bars and Beach
At any point during the day, you can wander a block or so east and hit the beach and there are any number of beach bars spread up and down the coast, just look for one that suits your style. Regarding the beach, be forewarned that Playa attracts many Europeans. While this makes it a more interesting place, it also means that not everyone wears what I would call adequate beach wear (and no, I have no photos)
Find John Jameson on Google Plus