Acre Restaurant - San Jose del Cabo
Acre Restaurant Cabo
Tonight we had a reservation at the new Acre Restaurant in Cabo, which made for a very interesting end to the day.  This new farm-to-table restaurant is the latest to join the sustainable farming foodie scene in Baja. Acre Restaurant is situated right outside San Jose del Cabo near a similar restaurant called Flora Farms.
It is a short drive up the dirt East Cape road but eventful with roller coaster hills and impressive pot holes.  The final plunge brings you to the neatly manicured fields and the very modern cement structure of the restaurant.  The walls are made from clay from the farm, mixed with cement.  They have a massive bar with a large selection of Mezcals.  They are developing a still of their own. The modern and elegant seating area creates an expectation of something great to come.
Acre Restaurant Cabo specializes in creative cocktails; everyone seemed to enjoy theirs. You can read about their inventive cocktails here. The waiter was good with suggestions and I opted to try the Mezcal he recommended.  It is called Pechuga, made by Siete Misterios. It comes from Oaxaca and it is smooth, and amazingly complex. They have a variety of global, but also local cuisine and spirits that are always paired together well.
N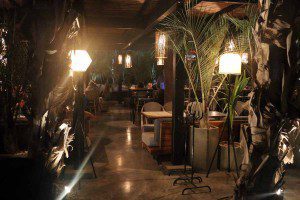 ot being big on raw fish, we still tried the Pescado Crudo appetizer.  It was well prepared and flavorful. The main course was a bit of a mixed experience. We wanted to love everything…..  So the good first.  All the vegetables crudité were fabulous:  fried green tomatoes, Brussel sprouts with a creative mix added and others. The vegetable accompaniments were expertly prepared, creative and delicious.  Likewise the braised beef was tender and brilliantly flavored.
On the down side, I couldn't miss a mole sauce, so I ordered the pulled pork sandwich.  It was a bit fatty and the mole just didn't cut it.  The other not so great outcome was the catch of the day, which was a bit bland, and three of us ordered it unfortunately.  To be fair, one of us did think it was just fine.  The waiter noticed I didn't eat much of my pulled pork and took it off the bill.  Also, they brought us a strawberry dessert on the house that was light and tasty.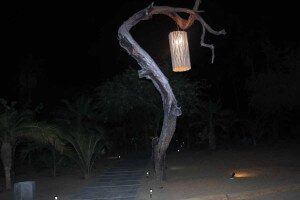 So overall, the very elegant, contemporary ambience made for a charming night. The variety and quality of the ingredients in the dishes, as well as the drinks make Acre Restaurant Cabo well worth the bumpy ride. Hopefully they will get the kinks out of a couple of dishes. Next time we're there I'm sure we will try it again because I would bet it will just keep getting better!