Casa Bahia Bonita - Yelapa
We needed a change from the gorgeous, but not so adventuresome environment of the Luxxe Resort. . We had looked online for accommodation in Yelapa, but no luck. As it happened, we met a man named Hector at the Alamo car rental and discovered he owned a tiny hotel in Yelapa. The rough translation of Casa Bahia Bonita is House on the Beautiful Bay. p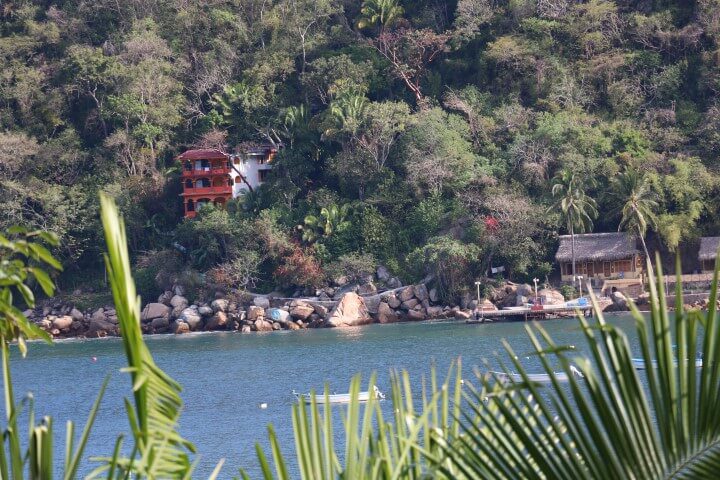 That's No Kidding ! You can find out more about Yelapa in our trip report. It is a relaxing, wonderful escape from modern day life.
Location
As the water taxi turns into the protected bay , you will see a striking coral colored building rising out of the jungle on the hillside to you left. That's your temporary new home You will need to tell the taxi driver to drop you at the Playa Pier. Not the village, not the Playa, the Playa pier. They stop all three places. As you walk up the newly cemented pathway, you will realize this is going to be a little bit of an adventure. It is only a 5 minute walk or less, but it twists around, hanging over the bay and then climbs the hillside. The office is on the bottom floor, but you will be climbing stairs from here.
Accommodations
There are suites on the next 3 floors. They take up the whole floor and have a fridge, stove top and basic cooking equipment. The highlight by far is the huge balcony looking out over the bay, with a view of the beach and the village. The room is clean and sparsely but nicely furnished. Hector has added some nice decorative touches, but this is not the Grand Luxxe. However, the bed is comfortable and there is very functional seating on the balcony, and you don't need much else.. Our first floor accommodation was equipped with a large fan , as I suspect they all are. Don't expect air conditioning, this is a touch of real Mexico. We didn't ask, but I am almost certain this is one of those places where you don't drink the water or even brush your teeth with it. I hate to mention it, but you also need to put the toilet paper in the trash, not the toilet.
This is the perfect place to escape the rat race in a safe and comfortable accommodation. There excellent food options and idyllic scenery. Definitely visit the village and experience the warm family environment of a seclude Mexican village.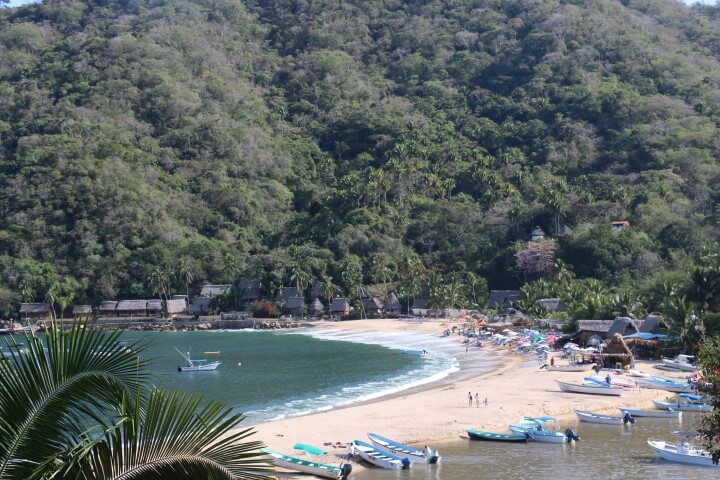 Details
Rates for March 2015 were $90-$110 per night, which I think is a bit expensive for Yelapa, but it appears to be one of the nicest places in the bay. They do have a partial view room for $65 , but try for the rooms with a balcony. Hector tells us he has plans drawn up to add some cabanas on the hill side, so there may be even more options in the future. You can contact him at [email protected]