Cirque du Soleil Riviera Maya Mexico
Is there really a Cirque du Soleil Mexico? Absolutely !! In addition to the visiting the Mayan ruins (one of the new 7 wonders of the world)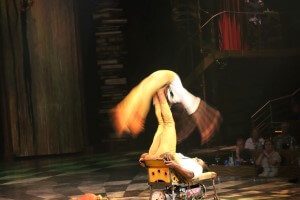 , crystal clear snorkeling , and cave and cenote exploring, you will now be able to attend a Cirque du Soleil dinner theater.
The Cirque du Soleil company originates in Canada, even though most people think of it in connection with Las Vegas. Actually, it turns out there are many locations with Cirque performances. This new one in Mexico is the most intimate of the 19 venues around the world and operates almost all year round. Be sure to double check if they are on a break before booking your trip. This location is the first to combine the performance with a dinner theater. The Vidanta theater was custom built overlooking a huge cenote (crystal clear pool that is characteristic of the Yucatan peninsula)
How Does It Work?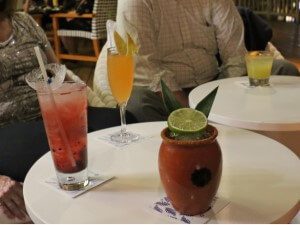 You buy tickets ahead of time (see "How Can I Get tickets" below) and either drive to the venue or catch a Cirque du Soleil Mexico shuttle from the Vidanta resort across the road. It is located about 2/3 of the way between Cancun and Playa del Carmen on the West side of the road. It is not subtle, you won't miss it. You are struck by the funky Cirque decor the minute you arrive. There is a great cocktail lounge with incredible signature cocktails. I can personally recommend the Lychee martini and the the drink with passion fruit, Mezcal and jalapeno. They wouldn't tell us the secret ingredient in the lychee martini, but we figured it out when we got home that it was St. Germaine liquor. We recognized the totally unique flavor. There is also a free standing restaurant outside the theater that is quite good.
Is It Worth The Price??
That was our question ! At $180 for dinner and the Cirque du Soleil show, it is a little pricey.... and in our opinion totally worth it. The dinner was one of the most interesting meals we have ever had. Crazy frozen appetizers that pop on your tongue. One creative, exotic course after another, culminating with a book that looked like it had Harry Potter spells in it. Once opened , you see that it is hollow and contains four different interesting desserts. Full disclosure, the gelato was the only disappointing moment of the whole evening. The other three were , like the meal, fabulous. See food photos at the bottom of this post
In addition to fabulous food, there was a band playing that looked and sounded a lot like the Buena Vista Social Club . That was just a bonus. Once dinner was cleared away, the show started with an endless parade of things you are sure are physically impossible.
What is the story of the show?
The title of the show is Joya (pronounced Hoya) which is about a young girl , OK, I admit I didn't pay much attention to the story. Her uncle is an alchemist and ..... that's all i remember. but the acts are incredible. Those I remember.
How Can I Get Tickets?
Good news! These shows are open to the public. You can phone the Vidanta reservation line at 800-292-9446 from the US or Canada or 01-800-543-7044 from Mexico. You can also book tickets and sign up for email updates on their Cirque du Soleil website
Accommodations
If you book your stay with us in the Riviera Maya in the Grand Mayan, Grand Bliss, Grand Luxxe , you will be a short shuttle ride away from the show. And have a fabulous resort at your disposal.
Cirque Du Soleil Nuevo Vallarta?
Maybe you heard that Cirque du Soleil was in Puerto Vallarta. Well... not yet. The Cirque in Riviera Maya has been so successful, it seems it has spawned a much bigger idea. Ground has broken and hotel towers have been going up for the new Cirque du Soleil theme park in Vidanta Nuevo Vallarta. Originally slated to open this year, it seems we will have to wait a year or two longer to experience this whole new concept in entertainment.
In the meantime book a week with us and experience the first Cirque du Soleil Mexico