Deep Sea Fishing Nuevo Vallarta
Danisha Deep Sea Fishing in Nuevo Vallarta
Bring your friends or family along for an unforgettable day on the sea. Most people like being close to the water. Why not have a good time
spending a day on a Danisha's sport fishing boat. Even if you are not a fisherman, you can go along and have plenty of enjoyable adventures. Swimming, relaxing in the sun, laughing and taking it easy is always a great idea.
Enjoy a Mexican fishing adventure
Fishing is probably one of the most popular sports in the world. With more than 6,000 miles (10,000 km) of coastline, Mexico is a great place to go offshore fishing. Nuevo Vallarta is known for world-class fishing opportunities, and Danisha Sport Fishing located at the marina in Nuevo Vallarta, Riviera Nayarit has a crew with only one goal: "To ensure your day with us is spent doing exactly what you want to do!"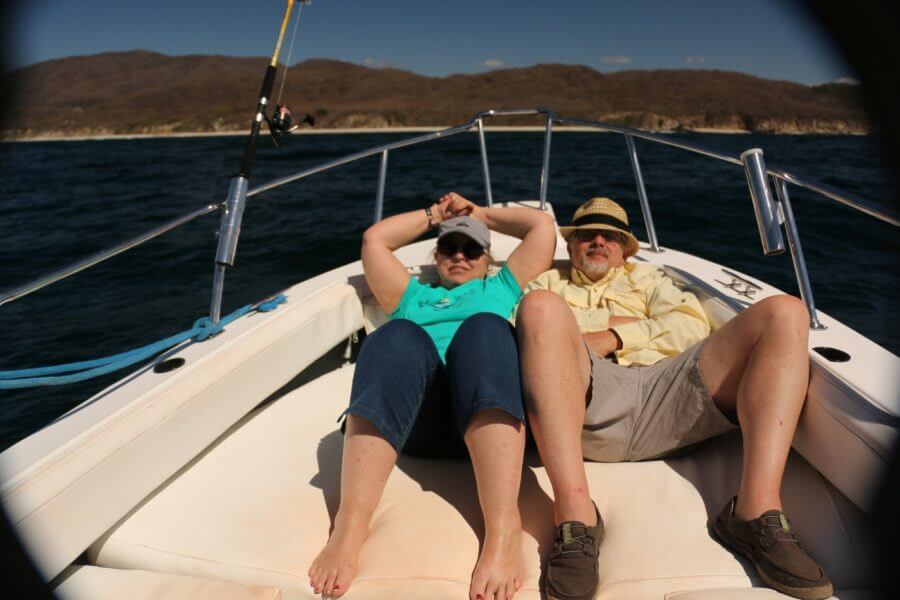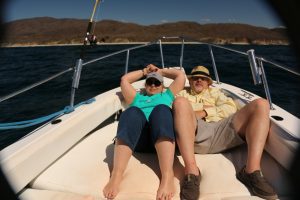 The whole family will love a boat trip with Danisha Sports Fishing. You can fish all day, but you can also combine it with swimming and snorkeling in the beautiful Banderas Bay, and maybe a little sightseeing along the gorgeous coastline. If you would like to see more photos, we have a complete Sport Fishing in Puerto Vallarta photo gallery.
Are you dreaming of blue water game fishing
If you want to catch Marlin, Tuna and other blue water game fish, Danisha Sport Fishing is the right place to book a boat trip. They arrange private fishing trips for 4-6 persons. Depending on seasons and destination the trips lasts from 4 hours to 12 hours, with snacks or lunch and drinks included. But of course you can also book a customized trip. We have gone out twice with Danisha. We had great luck the first time and not so much the second time. However, I think if you are serious, you really need to go for the all day trip (8 hours) that takes you just outside the bay. I think that is where the really good fishing can be found.
Why not try Kite fishing
Kite fishing is an ideal way to catch tuna, sailfish, and other fish attracted to live bait near the surface. In kite fishing, a drop line hangs from a kite with the bait at the end of the line. The kite drops when the bait is taken, then it is time to haul in your catch. It is an amusing and exciting way to fish if you usually use free-lined baits. Danisha Sport Fishing also arranges kite fishing trips. We have never tried this, so please leave a comment if you do.
Is offshore fishing safe in Mexico
The most imminent danger you will get yourself into is either sunburn or dehydration! Mexico has strict regulations about fishing. All boats and crew onshore/offshore must be licensed.
If you haven't been on a sports fishing trip before it will be a great day out on the water with lots of exciting new experiences. The Danisha Sport Fishing crew has years of experience on the sea. Fishing, fun, and service, are their passion. A lot of the customers say that a day out with Danisha was the highlight of their trip.
What to do with the catch!
In Mexico, a 'Catch and Release' policy is encouraged. You get to enjoy the thrill of fishing, try your luck and take photos of your incredible catch. So don't forget your camera, bye the way! After all the fun the fishes return to the sea.
If you want to taste a bit of your catch, the Danisha Sport Fishing crew can assist you in contacting one of the local restaurants.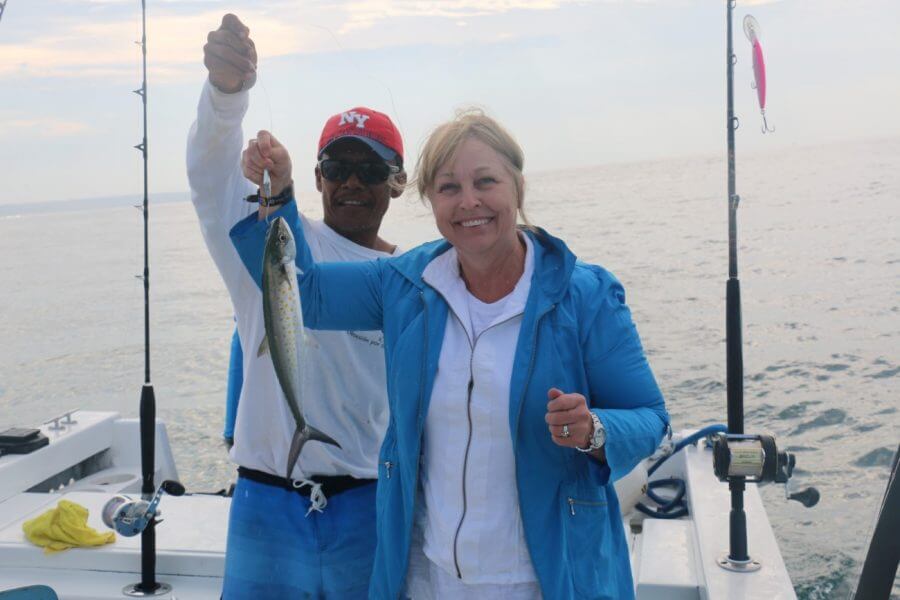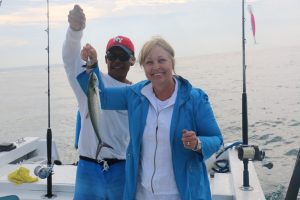 Either way one thing is for sure. You'll talk about your fishing adventure long after your vacation is over and the scent of the fresh salt water has disappeared. When we got back we had a couple of large fish that the crew filleted for us and we gave to a local friend who had a family feast.
How can I prepare for a fishing trip
If you haven't been out on the water before, you probably better prepare yourself for a wonderful and energy consuming day in the sun. Being exposed to a combination of sun, wind, and waves is a fantastic encounter.
You will need a high factor sunblock, lip balm, and a hat. The sun is very sharp on the sea. A pair of sunglasses is a really good idea. It is also important to remember to drink plenty of water.
In fact, water can mirror up to 100% of the UV radiation, which gives you twice as much radiation as normal. You can become red faster when you are in the water, even if you do not swim under the surface.
Grand Luxxe Nuevo Vallarta is the perfect place to stay for a day trip with Danisha Sport Fishing.
Visit Danisha Sport Fishing Facebook page and enjoy all the incredible and funny pictures from past trips.
Read more about Danisha Sport Fishing on their website where you also can watch the latest videos and photos and learn about the boat and the trips and everything you need to know for Deep Sea Fishing in Nuevo Vallarta