Doña Tere
Dona Tere,  (pronounced  Doan-ya Tear-ray   roll the 'r")a favorite of those spending time Neuvo Vallarta and also a favorite of the locals. With their great prices on toRp of the frequent promotional deals, make this a good spot for families to get breakfast lunch and dinner at! The one complaint many trip-advisor reviews seem to point out, is the closing times, Make sure you plan on grabbing dinner early so that you don't get caught by surprise as the restaurant closes.
Atmosphere 
Casual dining and open air seating make this a good spot for a relaxed , festive night out, but maybe not the right place if you're looking for a romantic spot to have an intimate dinner date. Dona Tere is fairly new, and owned by a family passionate about Mexican food. As with most Neuvo Vallarta restaurants Dona Tere is near by most of the major shops and resorts so you wont have to go too far.
Menu
Being as this is the spot you will often be recommended to by locals and frequent visitors to the area, you would be correct to assume that going to Dona Tere will be authentic local Mexican food! Their menu is host to a large range of options, and everyone in the party is sure to find something to enjoy! Their food is extremely reasonably priced, and you wont find yourself paying an arm and a leg for a good meal. With their frequent two for one BBQ ribs special you'll get an even better deal, and for the prices the serving sizes are exceptionally large and you will leave feeling full.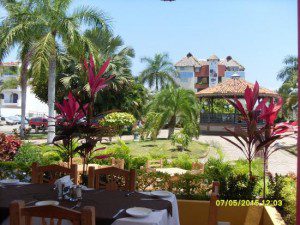 So if you're looking for a wonderful place to get some perfectly priced dinner, Look to Dona Tere for something casual, but still incredibly enjoyable, just make sure that you look up the restaurants hours before hand, and investigate their deals in advance for the opportunity to save even more on the food they offer!