Eddie's Nopal Beach Restaurant
Nuevo Vallarta's sunny beach boasts a good number of restaurants. One that will fall near the top of the most recommended is Eddies. This cozy family restaurant is a great spot for every meal, along with something every member of the family will enjoy.
Service
The first thing you'll notice when looking at Eddie's trip Advisor page is the number of responses from the restaurant's manager. Nearly every review left is commented on, be it good, bad or otherwise is replied to, either thanking a pleased customer, or letting anyone who was not satisfied know that their issue will be addressed. This really speaks to their attention to customer service. The owner is also known to go, frequently, from table to table to check in on everyone's meal, and fix any issues that have arisen. Along with the incredibly helpful owner, the staff is also willing to assist, and almost all of them speak great english.
Food
Eddie's seafood is high quality and fresh, and served in a variety of ways, the coconut shrimp is highly recommended! If you can't decide from the large selection, which can be overwhelming, they offer several sample platters, which can be great to share! One complaint that seemed to come up was the food being over salted, but many people also noted that the staff was more than happy to fix this.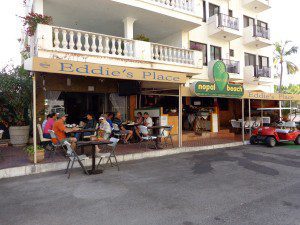 So if you're looking for somewhere to go for breakfast, lunch, or dinner (Or even to order one of their specialty coffee drinks,) make sure Eddie's is at the top of your list, for when you need some amazing authentic food, while overlooking the beach.