Estudio Restaurant
On the edge of the marina with a view of beautiful yachts,  the estudio restaurant is a one of our favorite options in Nuevo Vallarta.   As an added bonus this homey waterside restaurant is connected to an art studio, Estudio café is owned and operated by the family of painter artist Federico León-de-la-Vega and you can browse the art and hear the artist describe the inspiration for his painting and sculpture.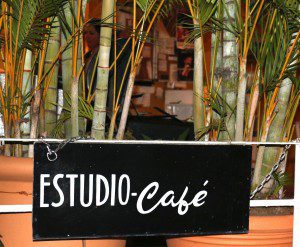 They serve breakfast, lunch and dinner in high season.  If you are staying in a classy place like the Grand Luxxe,  you want eating out to match that leve..  The menu is pretty main stream Mexican food, but don't be fooled.  The night we ate there , they had a mahi mahi special with mango salsa and vegetable side.  Everything was done perfectly and compares favorably with restaurants for twice the price.   The pride of the art and cooking shows in everyone in this restaurant.
They do home cooked family recipes. Fresh, natural ingredients, preferably organic, cooked in traditional, no-nonsense ways. They adhere to the "slow food" movement for proper cooking and enjoying. During high season (nearly October through April), they serve breakfast , lunch and dinner. In low season (May to July) dinner is not served. They close August and September but we are always available by e-mail.  See the Estudio Website for more info and email address.
During the busy season they have live music on Sundays and special occasions. On Saturdays enjoy their art shows with local artists and fresh out of the oven baked goods.    Perhaps the easiest way to get there is to go to Eddies Nopal beach, make a right and walk along the water a couple hundred yards.