Riviera Maya Grand Luxxe 2012 - Day Two
I am going to dedicate a full post to describing the Grand Luxxe Riviera Maya. On day one, I should have mentioned the check in experience in the Grand Luxxe. One of the benefits of the extra cost of the Grand Luxxe is the service. On arrival, we were warmly greeted and given soft comfortable chairs and mimosas while we checked in. The cell phone I lost on the way to the resort was already starting to be less of a crisis. Our room is a Grand Luxxe Villa Studio (the resort calls it a junior villa). It is truly a studio with separate sitting area including a refrigerator, coffee maker and microwave (and the requisite 42 inch flat screen television). It has the Luxxe amenities incuding the giant shower head, bubbler tub big enough for two and a variety of pillow choices. The Villa unit is on a corner, so you have two small balconies , one on the side and one on the end.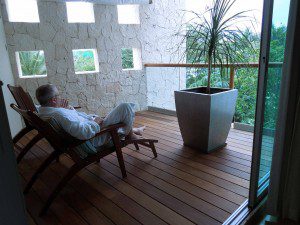 Two Kinds of Luxxe Units
The other Luxxe units beside the Villas are the Condos (also called Suites). The studio we are in can connect to suite and becomes the second bedroom of a two bedroom Villa. The one bedroom suites are almost the same for the Villa and the Condo. It is only the studio units (or second bedrooms) that are quite different. The studio unit for the Condo or Suite (both names have been used, it is a little confusing , even to us) is smaller with no separate living area, no refrigerator or microwave.
The Grounds and the Pools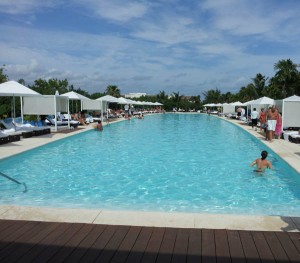 After a custom omelette for breakfast at the Green Break restaurant , we headed down to check out the new Grand Luxxe pool area. One deficiency at the moment is that there are really not walking trails. You either catch the shuttle to the pool down by the beach or head over to the path along side the Mayan Palace. The Luxxe buildings themselves are secluded in the jungle on the north side of the resort. Apparently walking trails will be put in when more buildings have been built.
The Luxxe pool has it's own exclusive restaurant called Burgers Custom Made (we'll tell you about that on day five). It is long and narrow almost like a lap pool, with a variety of comfortable seating . You don't need towel cards if you are in the Luxxe, so there are large towels rolled up and waiting for you. There is also a Luxxe beach area including beach seating tucked in the among the palms and shrubbery.
Who Needs It
One final observation, there are no DVD units or movie rentals set up in the Riviera Maya Luxxe, like there is in the Nuevo Vallarta Luxxe. However, I have always said it is criminal to watch movies in such a beautiful place 🙂