Habanero's Restaurant - San Jose del Cabo
That night,  we followed one of the standard recommended places to eat called Habaneros.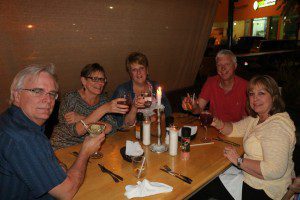 It is less than 10 minutes walk from the resort.  It was a pleasant little place with a variety of cuisines. Including a little pasta and the a variety of seafood.    Prices are reasonable and everyone was happy.   like    The catch of the day is prepared in three different ways.  Three of us got the cilantro pesto version, which was very good fish and was served on a bed of ratatouille.  And I learned that whatever ratatouille is, I don't much like it.