Welcome to Jungala
The newest addition to the Vidanta Riviera Maya Resort.
Watch the video then scroll down for a full introduction to the Jungala aqua experience.
A fun day for the whole family in Jungala
Jungala Park Vidanta, Riviera Maya is a new, luxury waterpark with state-of-the-art attractions and a fixed daily capacity to reduce waiting time.
The new park provides a mystical journey through the jungle with rocky walls and tall trees, water spouting everywhere. Visitors can enjoy native birds and other animals while exploring water rides or relaxing on a lazy river. Jungala has beautiful tropical surroundings with private cabanas, several restaurants and snack halls featuring a variety of dining options and some of the best water rides in the world.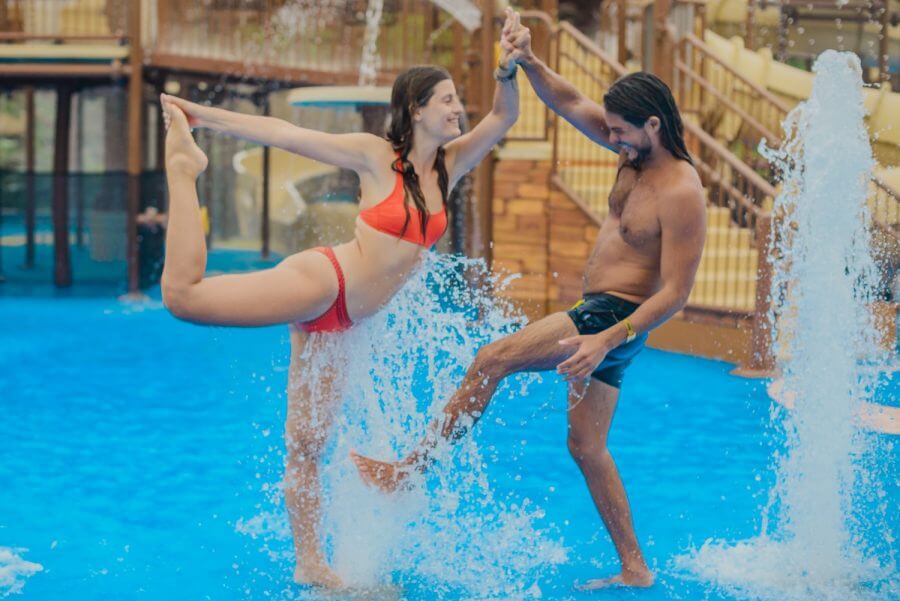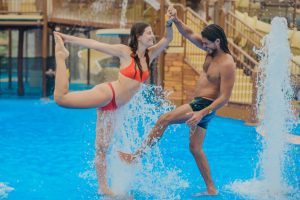 Something for both young and old
A day in a waterpark is a fantastic adventure when you are on vacation. Jungala is the perfect place to spend a day, and the park has lots of activities for both children and adults. There is plenty of family-friendly attractions for younger visitors, including the Kids Waterslide Complex and the Aqua Play Rain Fortress, one of the worlds largest interactive play structures.
Everyone will enjoy it as soon as you arrive at the park. There is so much to do and experience in Jungala. After swimming and playing, there are still lots of fun in store. Time will fly while you create many lovely memories together.
The perfect place to spend a day
Jungala Park Vidanta has the longest lazy river in Latin America over one kilometer long, the only one of its kind in Latin America, and one of the few wave pools in the world with natural sand and waves up to 1.5 meters high.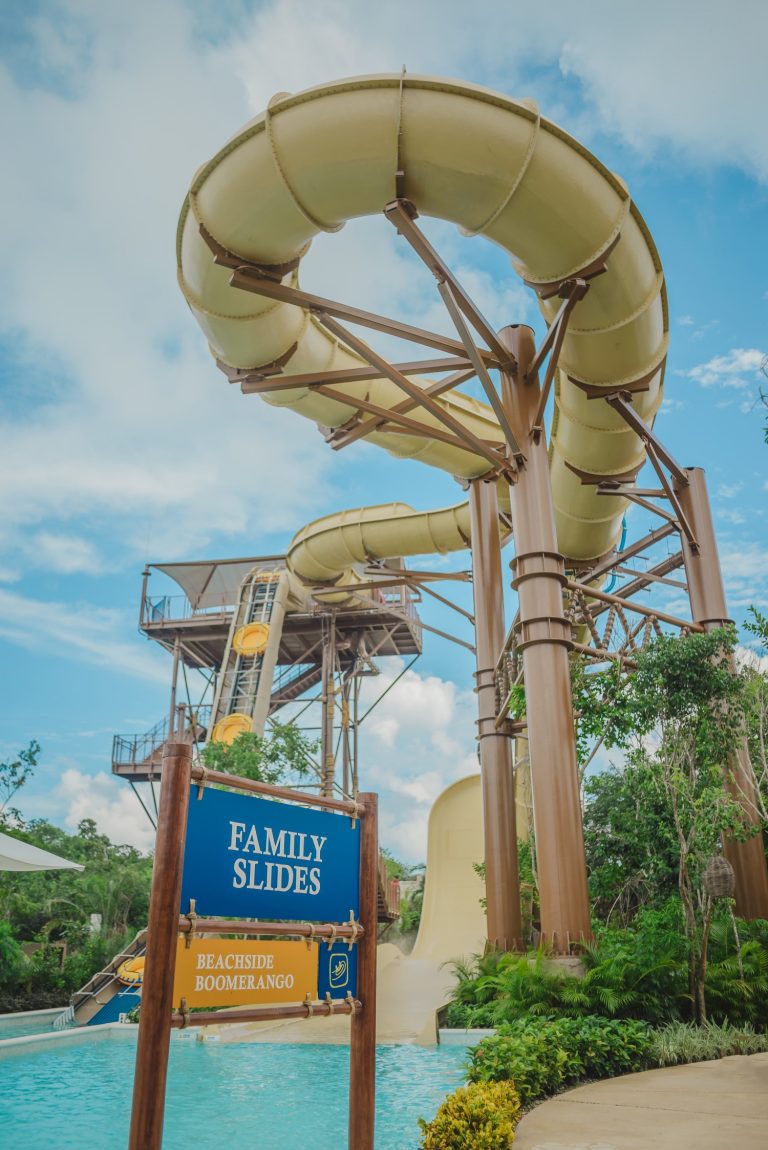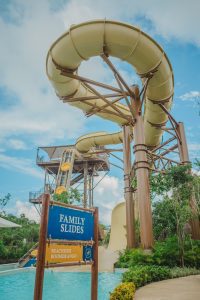 The park has plenty of other attractions. Paradise Free Fall lets you drop into a near-vertical tube at dizzying speeds and shoot out safely at the end. Hoop Hoop is a water slide insanely fast, you get the best of gravity with adrenalized drops, twists, and turn.
As we mentioned, in the Kids area, you find the Aquaplay Rain Fortress the largest interactive play structure in the world, and the Kids Waterslide complex. Both are low-speed, gentle rides intended for young children.
Shopping and dining
There are several boutiques and stores available, offering a wide range of clothing, crafts, and souvenirs at the Bana Cabana Shop and the Bohanna Market. If you need a new bathing suit, you can buy in the boutiques or pick up a pool-bag must-haves or pharmacy items at Bohanna Market.
If you get hungry, Jungala has 6 food and beverage outposts from a swim-up bar to a food cart serving artisanal sausages and delicious french fries.
Consider Renting a VIP Cabana for the ultimate relaxation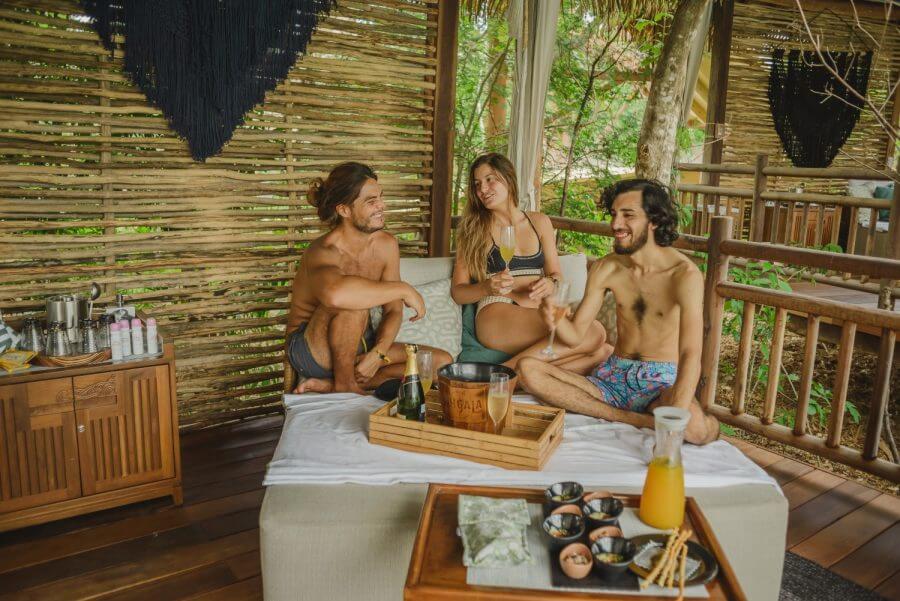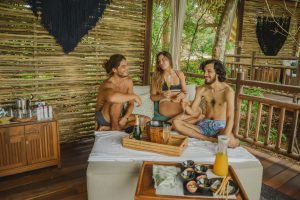 If you want a stress-free and relaxing experience, you can choose between nineteen cabanas available for rent at an additional cost. It is definitely worth it if you can swing it. The rent includes a lot of luxuries such as access to luxury spa pools, a welcome fruit plate, luxurious towels, fruit-flavored spa water, and assorted chef-prepared canape's. There is nothing like the Jungala Aqua Experience.
What to pack in your pool-bag?
Preparation beforehand will make for a stress free waterpark experience.
Swimsuit without metal clips. One unusual requirement of the park is that guests must not have any metal on their swimsuits. This is to avoid scratching the slick water slides.
Sunscreen and lip balm
It is easy to get sunburned in the water. Re-apply the sunblock every hour. And don't forget a lip balm with SPF that can ward off chapped, dry lips and help prevent sunburn.
Goggles, sunglasses, water shoes and a wetbag
Goggles can be a lot of fun to wear. Do you know you can use baby shampoo can avoid the google steaming up? Sunglasses are indispensable protects the eyes from the blazing sun. Consider leaving your expensive designer sunglasses at home, you can quickly scratch or lose them in the waterpark.
Water shoes and a wetbag
The soil and pavement can be hot, making it difficult to walk on with bare feet. And a waterproof bag to place wet swimsuits to keep everything else from getting damp is a really good idea.
5 benefits of spending a day with the kids in Jungala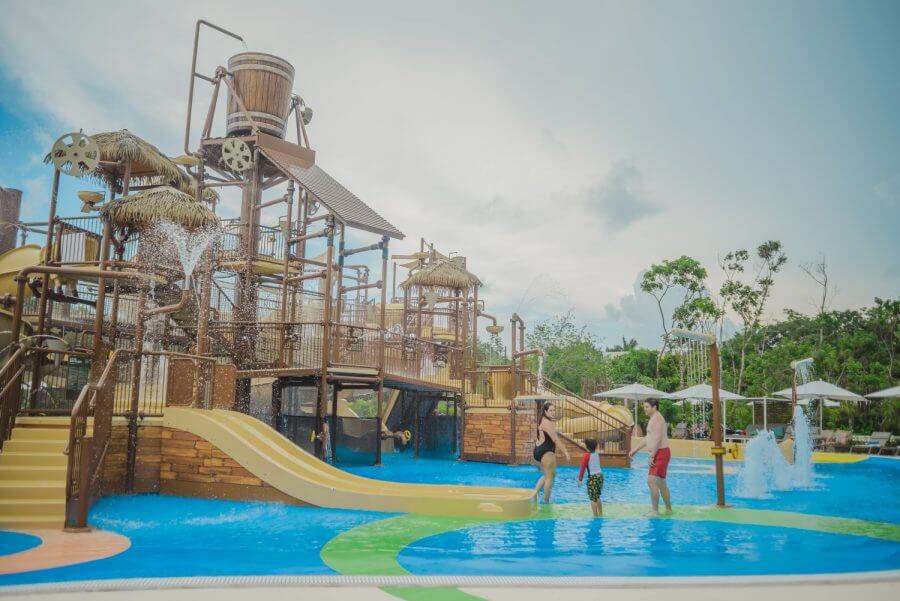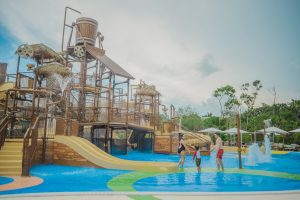 Children use a lot of energy in the swimming pools, while you can relax.
There are plenty of opportunities to find new playmates when they play in the children's pool.
The family gets new experiences together playing in the water.
Children love to try something new with you.
The rush in the stomach as you slide into the water at full speed gives you something to laugh and talk about for a long time. Not the mention the photo options!
Links and information
There is an entrance fee and an extra charge for VIP cabanas. If you book your stay with MayanRental, you are the guest of a member. Ask your concierge about special rates as soon as you arrive at the resort and buy your tickets. the park has a limit on the number of guests to shorten wait times. For even more info see the Jungala Website
Check out our Photo Gallery of the Park and a VIP Cabana.
Once you get back to your suite, you will want to change your clothes and head to dinner and a show at the Cirque du Soleil Riviera Maya right on the Vidanta Riviera Maya resort grounds.