La Laguna Restaurant
Our new favorite place for seafood, La Laguna is located on the main road coming into Nuevo Vallarta to the Grand Mayan and the Grand Luxxe.  It is on the left coming in.  It doesn't look like much from the road, so don't miss it.  It is probably a ½ mile before the entrance to the Mayan Resorts.  It is a casual outdoor garden style restaurant, but is nicely decorated and sits right on a lagoon with dozens of turtles and a few crocodiles.  We went there with a group of local friends and it was a blast.   One of our Gringo friend's had a birthday and they made a big fuss over her and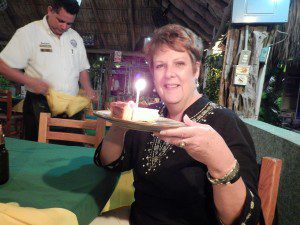 gave her a cheesecake with a candle and a foaming tequila and sprite, which she downed not knowing what it was !
Everyone's favorite dish was the shrimp in a blanket.  Several large shrimp, wrapped in bacon with a pineapple  Dijon mustard sauce.  Wow.  They also have the best coconut shrimp I ever tasted.  Our local friends love the whole red snapper that could EASILY satisfy two people.
The wait staff here is a friendly, fun loving bunch that make a good experience even better.
It is fairly  a long walk from the resort, and there are no sidewalks, so you may want to grab a cab.