Vidanta Grand Mayan and Grand Luxxe Nuevo Vallarta Resort Map
It is a twenty minute walk through a landscaped jungle from the Grand Luxxe to the Grand Mayan. On one end of the resort is the River with flocks birdlife and the exclusive Luxxe Pool areas. On the other end is the Grand Mayan waterpark (see our video here) with the lazy river running through it. (here is a lazy river video). You can stop at La Plaza part way through for a a variety of refreshments including frozen yogurt.
Grand Mayan Nuevo Vallarta Grand Bliss Nuevo Vallarta Grand Luxxe Nuevo Vallarta
Vidanta Grand Mayan
The Grand Mayan water park, in addition to the lazy river, has 2 wave pools, a large kids area, and a variety of intimate pool areas with beds , palapas and a poolside restaurant. The Grand Mayan is the more cost effective option and a favorite with families due to all the pools and activities.
Vidanta Grand Bliss
Down by the beach is the Grand Bliss pool area which is home to the Chiringuito restuarant. If you walk close to the beach your walk will take you through there next.
Estates Exclusive Beach Club
In between the Grand Bliss and the Grand Luxxe , the area labeled Mayan Palace pools on the map has recently been replaced by an exclusive pool area for guests of the outrageously luxurious new Estates across the river.
Grand Luxxe, Luxxe Loft and Luxxe Spa Tower pools
There are 3 Luxxe pool areas . two of them are around Luxxe building 1 and the other one is between Luxxe Building 4 and the river. The Luxxe kids club is there also along with a restaurant with a small breakfast buffet. We do recommend the Cafe del Lago near La Plaza if you are going to do a breakfast buffet.
Special Pools
There is a nice pool and jacuzzi on the top of the 4 Bedroom Residence building for the exclusive use of Residence guests. The Top of Building Five also has a pool and is home to the Quinto Steak House with a fabulous view of the mountains and Puerto Vallarta.
The black numbers mark the building numbers of the various Luxxe Units. The small red numbers 7, 8 and 9 mark the 3 different Grand Mayan areas, Copan, Tikal and Muyil.
Map of Restaurants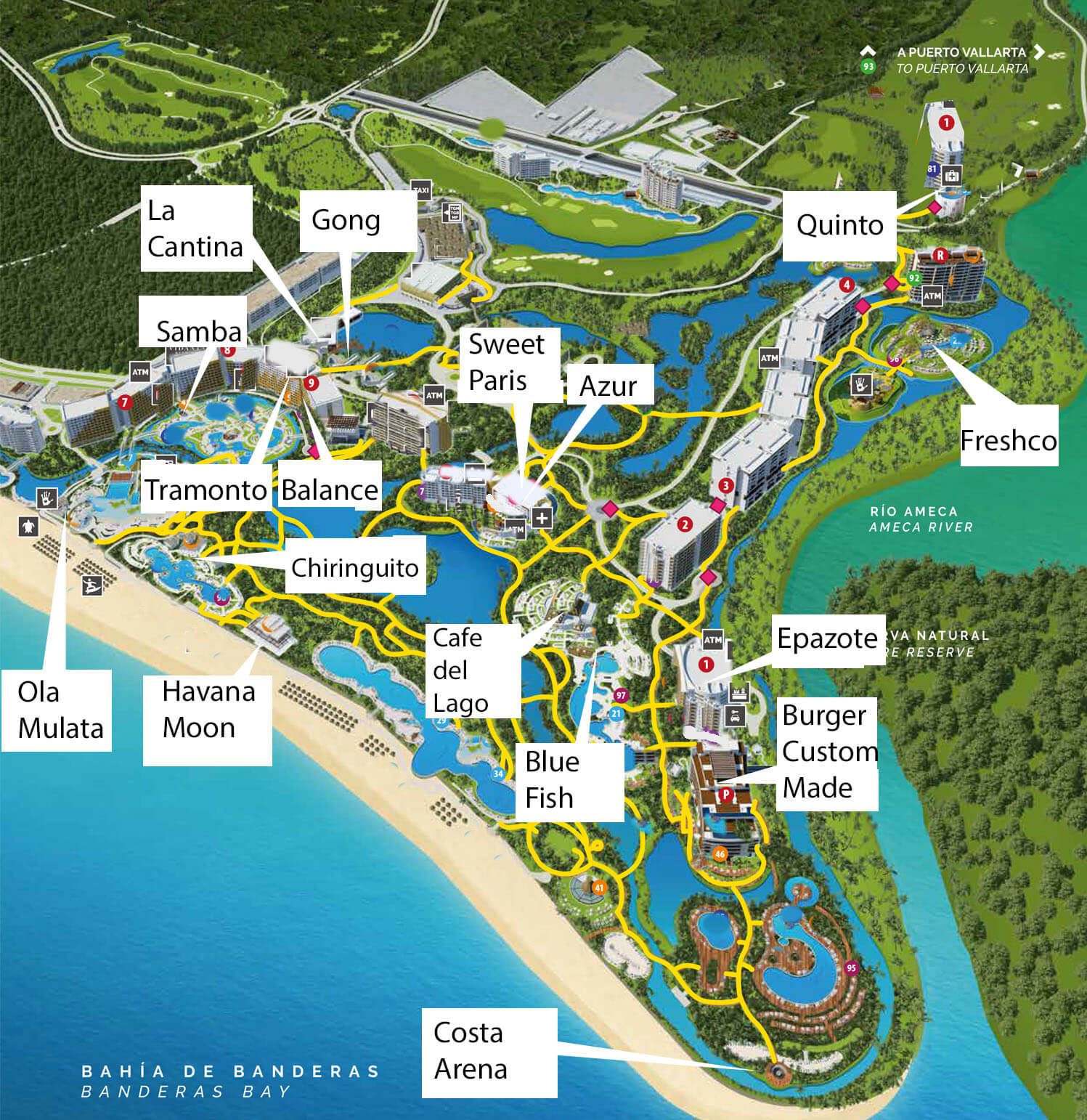 Map of Activities