Puerto Vallarta Botanical Gardens - March 2015
We have been hearing about the botanical gardens in Puerto Vallarta for years, but I think we were a little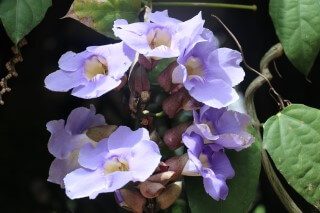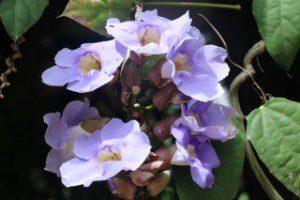 skeptical.  But since we were already close and had a rental car, we figured it was time to check it out.
From Boca de Tomatlan (on our way back from Yelapa) it is still a just bit farther south.   If you drive from Puerto Vallarta plan on 30 minutes and from Nuevo Vallarta better figure an hour.   The first thing you see is a bright colored pillars of a pavilion set into the hillside.  The gate is another ¼ mile or so.   You can buy tickets at the entrance for less than $10.  They strongly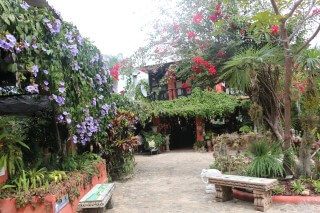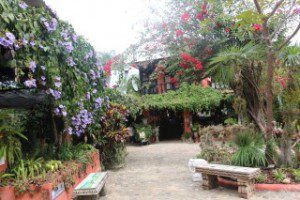 advise insect repellant, but we decided to take our chances and had no issues.   I imagine if you were there in the autumn months when it rains a lot, the story might be different.
We have read the gardens cover about 20 acres, but it seems much bigger to me.  It is filled with 3000 plant species spread throughout the grounds.  The first thing you pass walking in are some winding trails through a rainforest environment.  This area is not a handicap accessible display, but instead  a rough trail winding up and down hills.   If you aren't up for a tromp in the woods, continue down the drive to the nicely laid out display with collections of roses, palms, coffee, wildflowers, orchids and vanilla. There were more display buildings under construction when we were there. We were a little short on time, so we didn't take the trails down to the river, but they looked fun. They were marked more strenuous than the first trail area, so be prepared. We plan another trip and will check it out for you next time.
You can get there by taking the El Tuito bus down Highway 200 .  Another thing you might consider is picking up one of Sandra Cesca's "tropical plant walks of Puerto Vallarta" and enjoy the tour guide as you get to see tropical aesthetic trees and plants of different varieties and species.  You can  take a guided tour from a volunteer on site or even arrange for Sandra to take you from Puerto Vallarta and get a complete walking tour with her.
However you get there the Puerto Vallarta Botanical Gardens are well worth the effort for all plant lovers.