Vidanta Riviera Maya Restaurants
You can rent a week or two from us at the luxurious Vidanta Riviera Maya Resort right on the beautiful Caribbean.


But people often ask about the cost and the quality of the food. The quality is exceptional and the cost is is comparable to US good quality restaurants. There is also an endless variety in nearby Playa del Carmen. but you may not even need to think about it. There are now over 20 restaurants on the resort, not including bars. Because they don't do all inclusive, the quality of the food is much higher. No hassle with money or credit cards though, just charge it to your room.
Menus
We stopped trying to keep up to date menus because you can now get menus on the Vidanta app from the Apple or Android app store. They even include prices. Divide by 20 to get an approximate US dollar equivalent or by 16 to get an approximate Canadian dollar equiivalent. But come back here to book your vacation
Read on for descriptions of some of the best restaurants on the Vidanta Riviera Maya Resort
Amazing Variety
Robayaki
Sushi and Asian / Mexican Fusion.
Quinto
Top class steak house in an elegant setting
Havana Moon
A taste of Cuba with live music and right on the beach with a Caribbean breeze.
La Cantina
Mexican street food done right with a fabulous bar to match.
Del Lago
Generally we eschew buffets, but this is best breakfast buffet in the WORLD!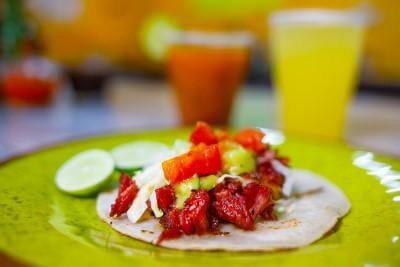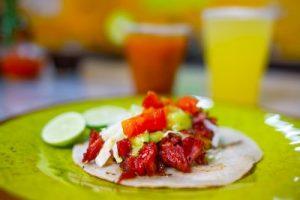 Joya
Do NOT miss the Cirque du Soleil dinner theater. This is one of our most memorable meals ever. It is pricey, but totally worth it.
Tramonto
Your chance to get dressed up and enjoy a classic Italian dining experience.
Gong
Fabulous food from all over Asia. Aside from Joya, this is my favorite restaurant on the resort.
And Many Many More!
If you are ready to see the resort info instead, just follow one of the following links: