Snorkeling in Riviera Maya
An Underwater Getaway, Snorkeling in Riviera Maya..
Beyond simply amazing food, great drinks, and lounging by the pool, Mexico has a not so hidden gem to find. Tucked away just off the coast of pristine beaches, amazing underwater adventures wait for everyone to explore. And while there are quite a few beautiful places to snorkel, snorkeling in Riviera Maya is especially easy.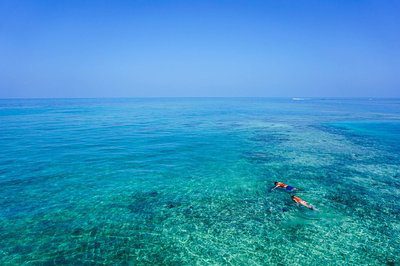 And for everyone spending a week at the Riviera Maya, those underwater adventures are closer than you would think.
That said...
By now, it should be no secret, we love snorkeling.
When we aren't searching for the best margaritas or sopes, we're probably exploring the reefs off the coast. And having spent a significant amount of time with our faces in the water, we've been able to find the best places to snorkel.
We've seen Solomon Bay, Maroma Marine Reserve, Half Moon Bay, Yal ku Lagoon in Akumal, Xcaret, and even Xel Ha. Though hands down the best place we've put on our flippers has to be the Maroma Marine Reserve. This little tucked away paradise is right off the coast of Puerto Morelos and just a short trip away from the Vidanta Resort.
And since it's only about five miles away, there's no reason not to suit up for an amazing underwater adventure.
Los Pelicanos Beach Club and The Youngest Captain...
While you're out exploring, you'll find that quite a few places offer excursions out beyond the shoreline. Though finding the right one can sometimes be a bit of a challenge. It takes a bit of looking around and sometimes a bit of luck.
So, we decided to ask around for some local places to set out to the not so open sea...
Acting though on a recommendation of a local friend, we settled on booking a tour with Los Pelicanos Beach Club.
And while it definitely tested our Spanish skills, the staff were not most fluent English speakers, it proved to be worth it.
So after only parting with $25, we took a boat for a short trip to the offshore reef. The tour included two dive locations and lasted about two hours, not bad for $25.
And while the captain of our vessel, a small skiff less than 20ft in length, looked barely old enough to drive, he skillfully led us a hundred yards beyond the coastline. While not much of a talker himself, we were able to still make a few friends.
A lovely couple from Bogotá were our shipmates and during our short trip, we exchanged a few snorkeling stories before finally reaching the first dive spot.
Exploring Another World While Snorkeling in Mexico...
Securely anchored at our first dive location, we all jumped in the water and started our underwater adventure. If you have never snorkeled, let me prepare you. After you get accustomed to breathing through your mouth, you realize that it feels like you are in an alternate universe.
The one thing about snorkeling in Mexico I love is how warm the water feels. It's no jacuzzi but after a few seconds, you adjust to coolness and embrace the respite from the hot sun. Once you become acclimated to the waters, the beauty of everything around you sets in.
As you look in either direction, you're greeted by the sight of colorful coral spreading around you.
The day we went, visibility was at about 40-50 feet, so as far we could see, fish and coral were everywhere.
And while there were plenty of underwater creatures to snap pictures of, there were not as many as we would have thought. Though we could have spoiled from our last trip to Malaysia where huge schools of fish were everywhere!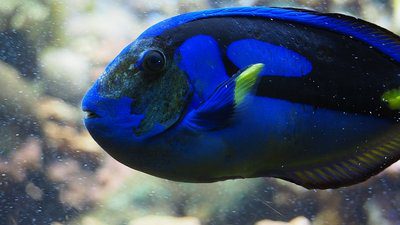 Surprising numbers aside, there were still quite a few different species all sharing the reef and coming in for a peek at the new visitors.We were able to spot some blue-headed wrasse, a couple groups of blue tang, some spotfin butterflyfish, and nearly a dozen or so others. Though the highlight of the first dive had to be the few rainbow parrotfish that were just resting in the shade of the coral.
After more than a few pictures and some quality time underwater, we began to head out to the second location.
A few larger surprises waited at the second dive spot...
Once we arrived, our dive guide decided to lead us a bit further out for a chance to see some larger fish. So following his lead, we set out in a single line into the deeper water And while it turned to be a serious leg work out, it turned out to be worth every paddle. Once out in the deeper water, we were able to see a pretty large manta ray just swim by. As peaceful as the manta ray was, the sight of a 3 foot barracuda was less peaceful , but more exciting
Though there were less fish than the reef, we were able to catch a glimpse of some pretty rare sights. A couple of those sights, I was not able to spot at the moment though. But none the less the dive was definitely the perfect way to end the trip.
Snorkelling is Fantastic Experience
All in all, the entire experience was amazing!
So if you find yourself wanting to do something a little different and aren't afraid of getting wet, you have to try it yourself. If you're ready for your own underwater adventure, then book your own vacation in Mexico before it's too late! If snorkelling is big on your list, then Riviera Maya is a better choice than our resort in Nuevo Vallarta.
Vidanta Riviera Maya Snorkel Trip
If you are a "stay on the resort" type of person, don't despair. You don't have to leave the Vidanata Riviera Maya resort to have a great snorkel trip. Check with the water sports people on otn the beach for a great boat trip right from the resort ! Maybe not quite as many fish as the Maroma Marine sanctuary, but still a great trip with no extra effort required !
Snorkel the Riviera Maya
There are multiple other snorkel trips availabe, including snorkelling with Sea Turtles in Akumal bay. Whatever you choose, you will be happy you tried Snorkeling in Riviera Maya