Xcaret Eco Theme Park Day (or Two) Trip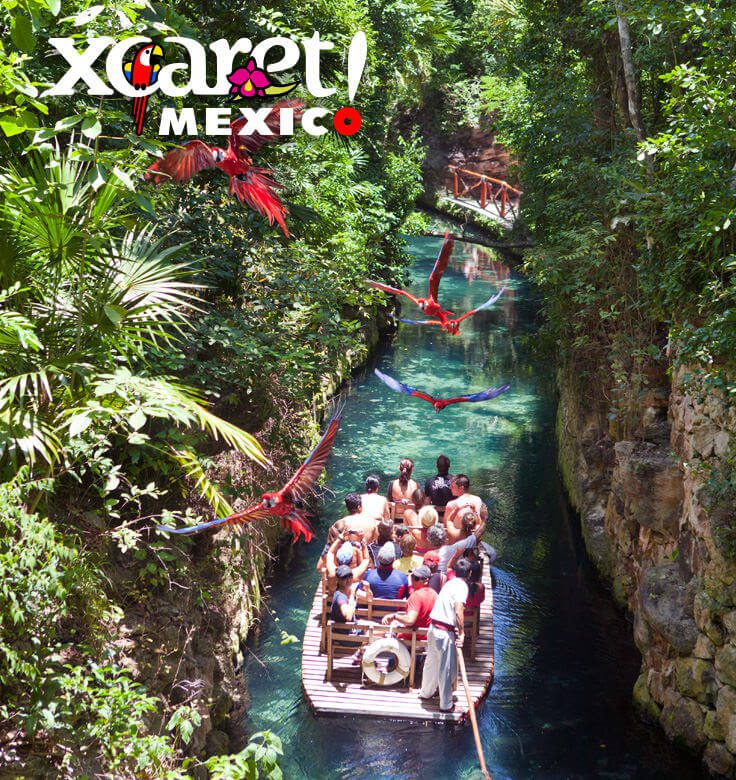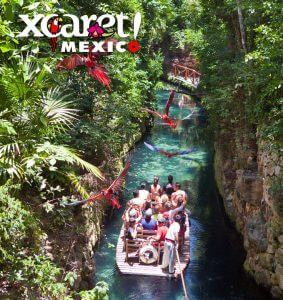 Xcaret eco theme park (pronounced ísh-kah-rette) is about 30 minutes south of the Grand Mayan Riviera Maya resort, just a little bit past Playa Del Carmen.  We did this park in 2005 when my kids were five and six. We also visited Xel-Ha and Tulum on this trip too. Because we knew we were going to do water activities at Xel-Ha, we didn't go swimming at Xcaret, so I can't say much about it besides I hear it's a blast and definitely worth it! There's so much to see above ground that we didn't want to miss out, but if you're not going to Xel-Ha, seriously consider the two-day packages for Xcaret, especially since the second day doesn't have to be consecutive.
We loved our experience at Xcaret eco theme park!  There is a spectacular beach (inner tubes and life jackets are free), natural salt-water pools, an underground river to snorkel or tube and cenotes to explore. I heard that the river was quite cool and dark in some areas, though there are many exits along the route.  We chose against the underground river/cenote snorkeling because, like I said we were going to be swimming at Xel-Ha, but also because I wasn't sure if the kids would be scared or too cold, and the transitions of changing in and out of bathing suits and renting/returning snorkel gear would just take too long. The kids did wear suits though and cooled off a bit at the beach where they released baby turtles.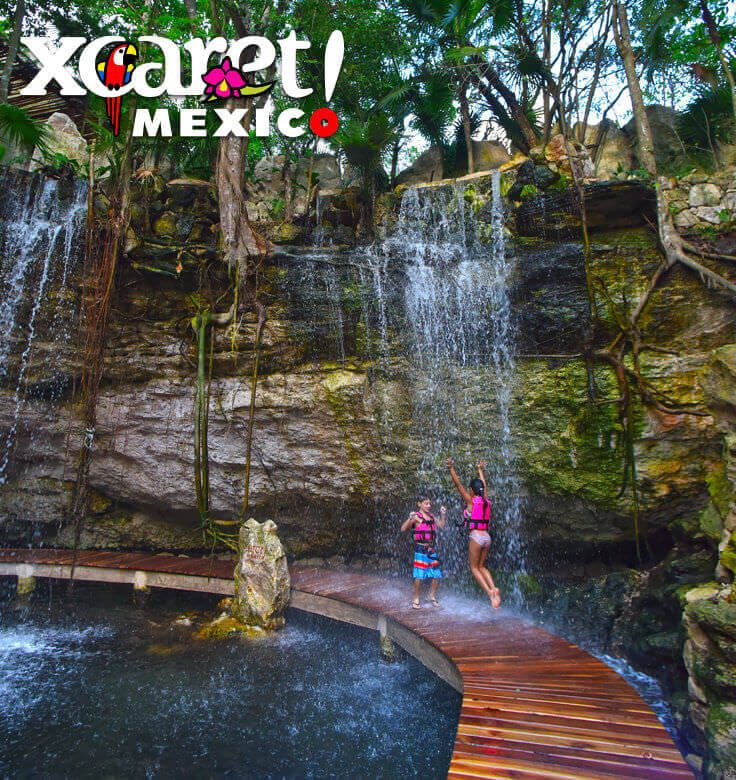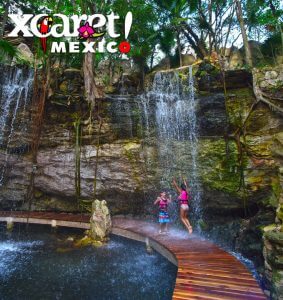 Before you leave home–
Book your tickets for the Xcaret eco theme park online at least one week in advance and you'll get 10% off.
There are specific times for certain "shows" throughout the day.  Be sure to find out the times when you arrive and plan around them–
Baby turtle release
Papantla fliers


Sea turtle feeding

Mexico Espectacular Night show
Part of Xcaret was similar to a zoo with many animal exhibits, like the jaguar island, monkey island, deer refuge, aquarium, bat cave and butterfly pavilion.  They also had cultural areas–some small ruins, a very colorful and beautiful cemetery, a small Mayan village and traditional papantla fliers.The fantastic evening show told the history of Mexico from the early Mayans to Cortez and Christianity, to present day with dances from every region of Mexico. They also demonstrated a pre-hispanic ball game called pelota.  It was a long day but worth it!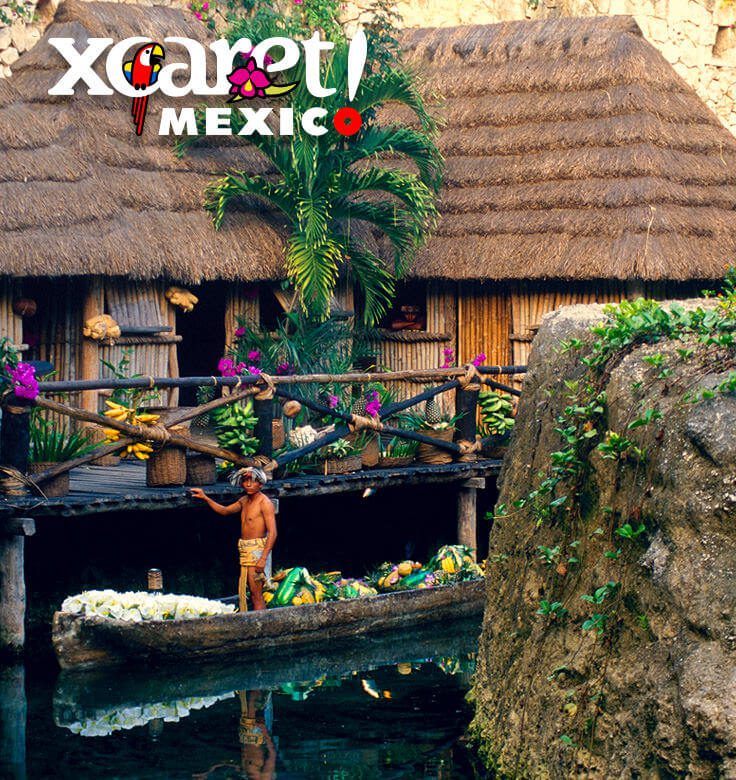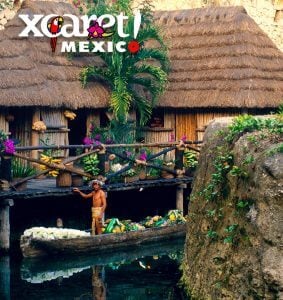 They have two packages: Basic and Plus, and each can include transportation. Children from 5-11 are 50% of the adult price and children under five years old are free.  (If your child is tall, they may ask for proof of age.)  The Plus package includes everything in the Basic, plus snorkel and mask rental ($10, plus deposit),  a buffet lunch, and a 10% discount for some add-ons.  All packages can have add-ons like swimming with dolphins/sharks/stingrays, snorkel/scuba trips, etc. There is also a few newer package now where you can pay for entrance just for the night in case you just want the shows and food.
They even have a rainy day guarantee and a rescheduling policy if you need.  Keep in mind that the busiest days are Tuesdays and Wednesdays, and the days with fewer visitors are Saturdays and Sundays.
Ticket Prices:
| | | |
| --- | --- | --- |
| | 1-day | 2-day |
| Basic | $99  ($49.50 for children) | $149  ($74.50 for children) |
| Plus | $129 ($64.50 for children) | $215 ($107.50 for children) |
Children's price applies to kids 5-11
Children 4 and under receive free admission 
A full breakdown of Xcaret activities and prices is available on their website.
Have fun!!
Search our site
Recent Posts
Who is Mayanrental?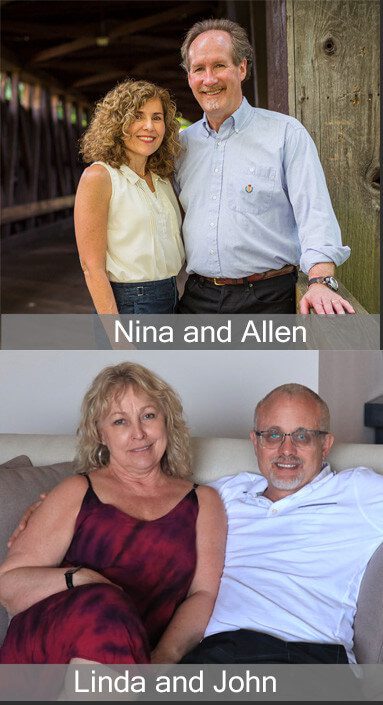 We are Vidanta timeshare owners who care our guests. We love finding you perfect accommodations for an excellent vacation.
Read More....