Off the Grid Fun in a Yucatán Cenote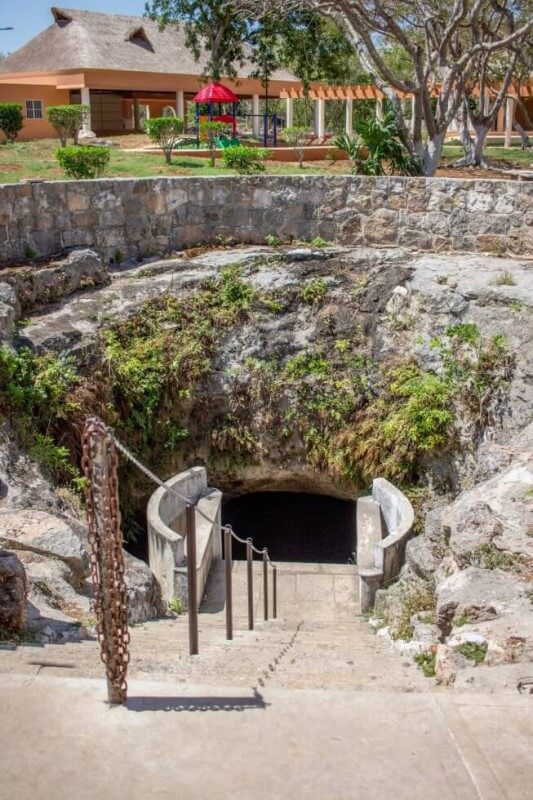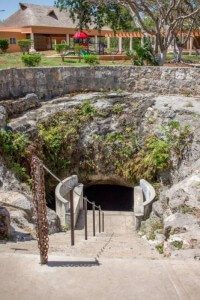 One of my very favorite memories from traveling to the Riviera Maya is when we had a little surprise adventure with the help of some locals. They showed us the secret gems of the region: Yucatán Cenotes.
We were just sitting down to eat our lunch. It was hot. We were dusty and tired. Though we were still enjoying our time, traveling can be wearying in its own way. Suddenly the locals told us they had something they wanted us to see.
When they showed us the chiseled stone staircase leading into the cool darkness of a sinkhole I was a little perplexed and scared, but also felt a rush of exhilaration. It was the cheapest, most relaxing, and noteworthy adventure I've ever had. It was called El Sambulá Cenote, and we swam in the cool, crystal clear clean water for hours. Not many people can say they've had this experience!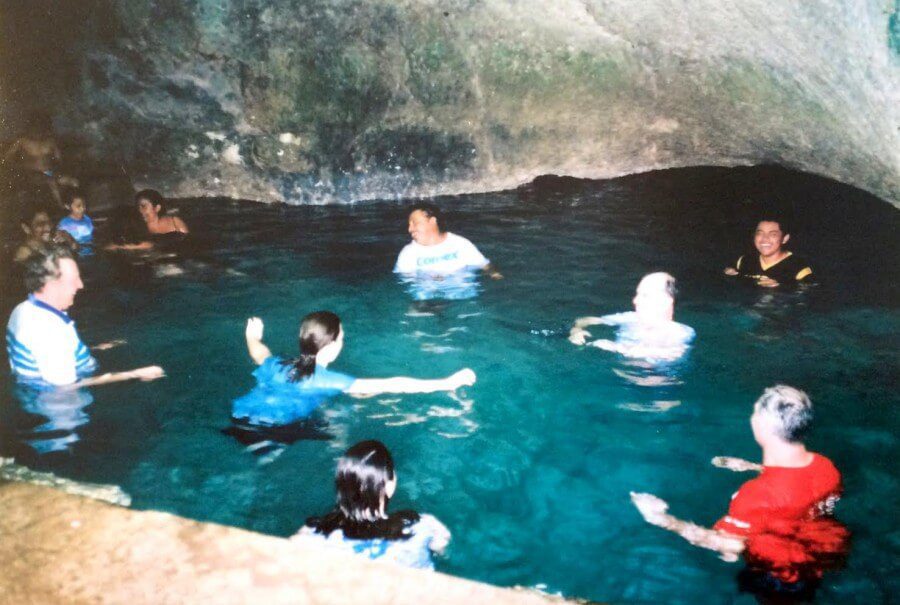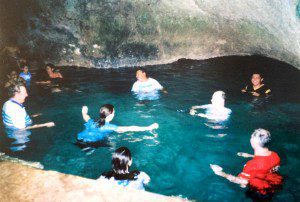 A cenote is a sinkhole, or cave created by a limestone roof collapsing into the earth after being eroded by water for years. The Yucatán has over 6,000 of these cenotes, some connected, but most just acting as wells for the local Mayans for centuries. Of these 6,000, only around 2,400 have been documented and explored. The word cenote actually means "sacred well", and the Mayans used these as water sources, but also for ceremonial rituals and sacrifice. Remarkably, there are tons of these cenotes all over the Yucatán, in the heart of the Riviera Maya.
If you're visiting the Yucatán and are looking for an adventure off the beaten path, the riviera maya cenotes are a must try! There are some that have been commercialized more than others, so you can choose from a variety of experiences. Here is information on some of the more popular ones.
Dos Ojos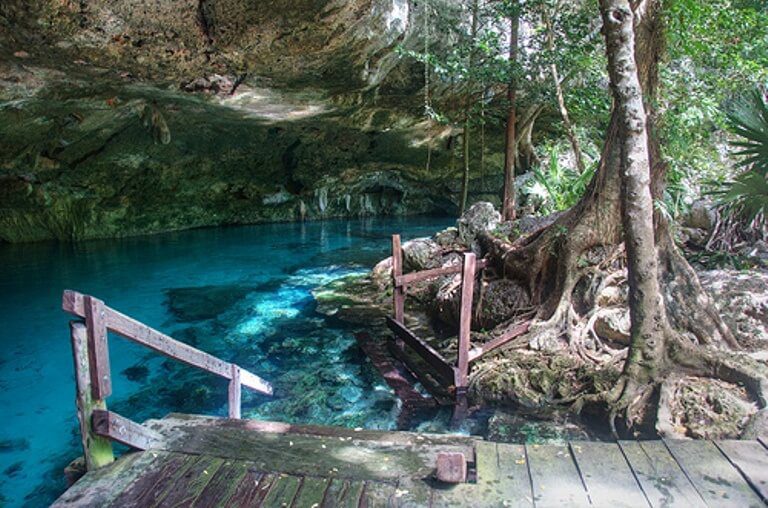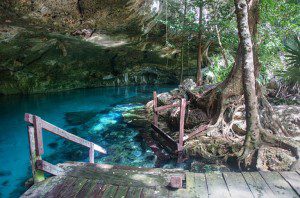 The Dos Ojos Cenote gets its name from its unique formation. It consists of two cenotes connected by a very large cavern which looks like two large eyes, one light and one dark. It is the ideal tourist spot for guided snorkel and dive tours. Divers will float past illuminated stalactites and stalagmites in an enchanted and eerie underwater wonderland. You will find little marine life except for undersized catfish, and a rare blind species of fish called "lub". Also, the bat cave at Dos Ojos offers an incredible glimpse into the lives of bats; one can watch them take their daily siesta comfortably nested in holes in the limestone.
Take an entire day and visit Dos Ojos, along with its three sister cenotes, the Pit, the Pet Cemetery and Tankah. For more information on Dos Ojos and its sister cenotes you can click here. It is situated about 2 miles west of Playa Del Carmen opposite the golf club Playacar and 10.5 miles north of Tulum along the Caribbean coast.
Il Kil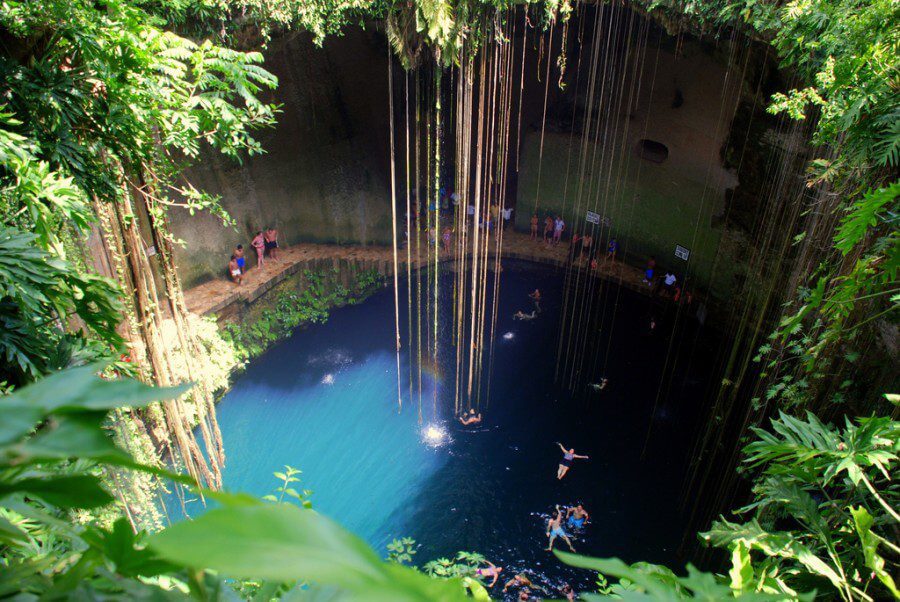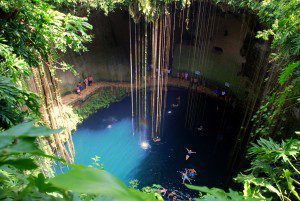 Il Kil is open towards the sky with the water level 85 feet below the ground. It is about 200 feet in diameter and is about 130 feet deep, with vines and small waterfalls surrounding it.
The most attractive thing about Il Kil is the greenery on the surface and the wildlife that inhabit the jungle, like parrots, toucans, mockingbirds, flycatchers, cardinals and turquoise mot-mot. Also, the depth of the cenote is mesmerizing from the view up top. It is well maintained with clean bathrooms, dressing rooms, parking lots on site, and the ability to rent water gear and towels.
Il Kil is located outside of Pisté in the Tinúm Municipality, and is part of the Il Kil Archeological Park with the Mayan ruins, Chichén Itzá, just 3.5 miles away. It's location is also convenient from cities in the area: 35 minutes drive (25 miles) from the colonial city of Valladolid, and an hour and a half (76 miles) from Mérida. It is open to the public for swimming and is often included on bus tours of the area. For more information you can click here.
Kantun Chi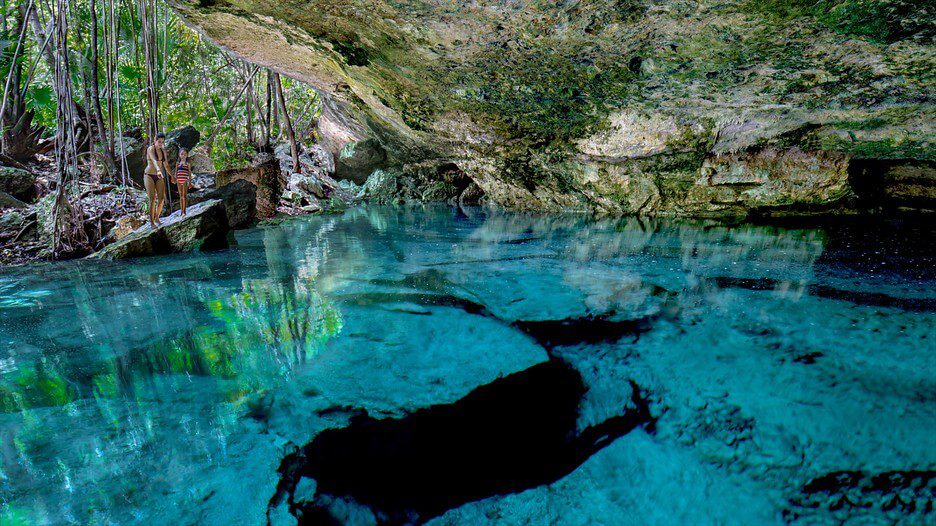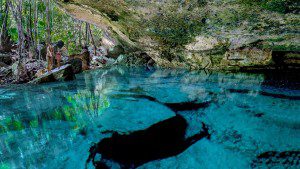 Kantun Chi is an attractive ecological park of cenotes and caves situated in the heart of the Mayan Riviera. Kantun Chi gives visitors a chance to explore the mystical caverns by swimming, snorkeling or kayaking. With incredible stalagmites and stalactites illuminated and glistening colorfully in the water the underground caverns in this park are sights to be seen. Even though there are many cenotes, only four are open for tourists for snorkeling and swimming.
It is situated in highway 307, 56 miles south of Cancun and 14 miles south of Playa del Carmen. When visiting the park, plan on spending two to four hours to enjoy the cenotes. The admission fee is included in the tour guide fee.
Aktun Chen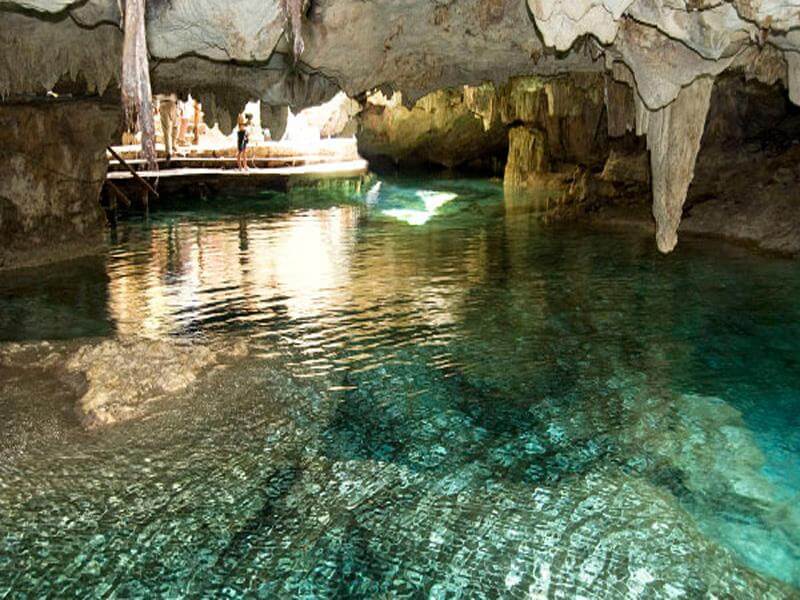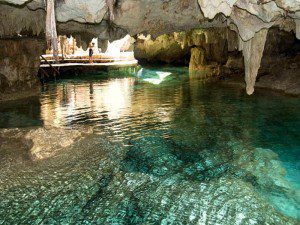 This cenote appears at the end of 1.5 hour long, but magnificent, cave tour. It is part of a well protected and massive beautiful rainforest, which you have to drive 3.5 miles into to get to the cave site. Aktun Chen is one of the only documented cenotes that you can't swim in because the water has a slow moving current and a layer of calcium carbonate sediment over 23 feet thick, which is very fragile. The water gets murky really fast and it would not be safe to swim in.
Aktun Chen is located 66 miles from Cancun in the heart of the Riviera Maya, 2.5 miles past Akumal and 16 miles from the ruins of Tulum.
Gran Cenote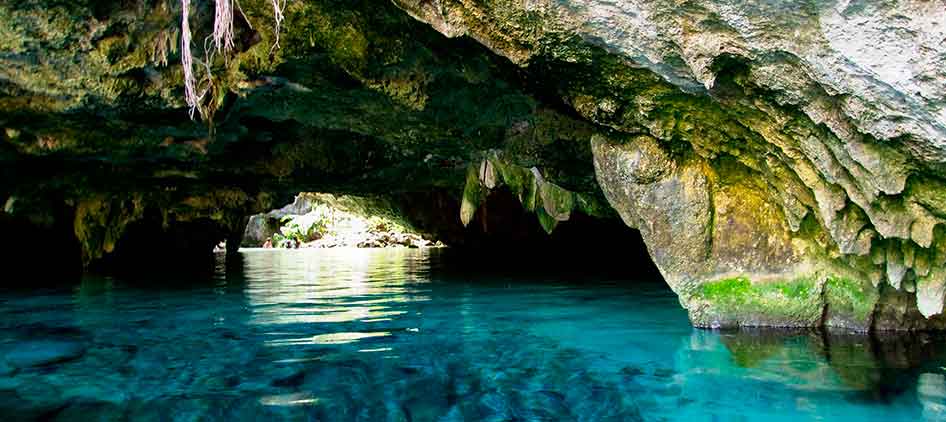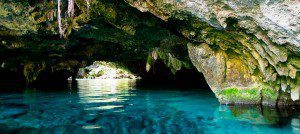 The Gran Cenote lives up to its name. It is well kept and found amid beautiful gardens. Its part of the Sak Aktun ("white cave" in Mayan) system of underground rivers whose current flows from deep inside the Yucatan peninsula. It's great for anyone, from waders and swimmers to amateur snorkelers to experienced cave divers. Snorkel and dive gear is available for rent on site.
Gran Cenote is located about 2.5 miles from Tulum along the road to the Mayan ruins of Coba.
The best way to reach any of these Yucatán cenotes is to take the Colectivo bus, which is available from all the major cities and towns around. It runs from 5 a.m. to midnight, and is quick, comfortable and economical.
While you explore and enjoy your vacation there are some wonderful places you can choose to stay! There is the Grand Mayan, The Mayan Palace, The Grand Bliss and the Grand Luxxe.
Try this one of a kind adventure in the heart of the Riviera Maya and explore a Yucatán cenote!
Search our site
Recent Posts
Who is Mayanrental?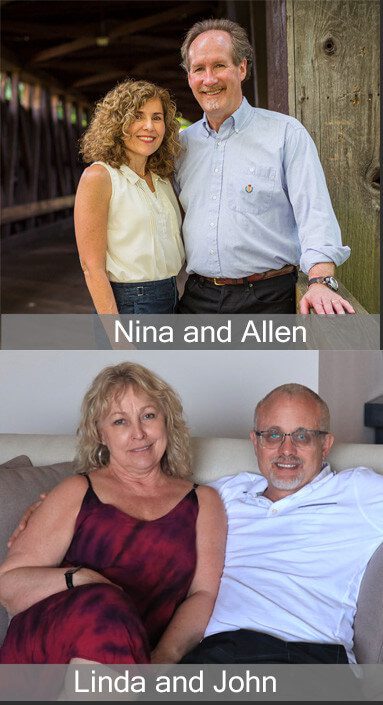 We are Vidanta timeshare owners who care our guests. We love finding you perfect accommodations for an excellent vacation.
Read More....