A Perfect Week Vidanta Nuevo Vallarta Resort
If you are wondering what there is to do for a week on the Vidanta Nuevo Vallarta Resort, read on!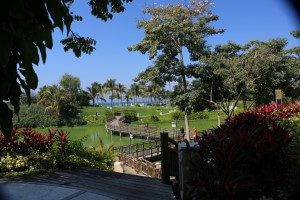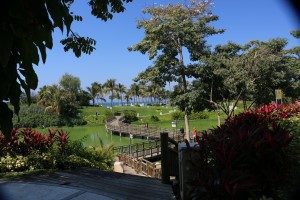 The Vidanta Nuevo Vallarta Resort is the largest of the seven Vidanta locations. Imagine a week with a huge variety of vacation options. This post will review just a few of them to whet your appetite. .
Note: Be sure to read through and check with your concierge to make any needed restaurant reservations on your first day to avoid any disappointments.
As we said in our post "A Week at the Vidanta Riviera Maya Resort, on any given day you can substitute laying https://www.funsunmexico.com/blog/vidanta-riviera-maya-one-week-itinerary/by the pool, reading, listening to music, and/or drinking margaritas or pina coladas for the suggested activities. And our patented MayanRental Ritual is a perfect template to make make relaxing easy (okay, maybe we didn't actually patent it). .
The MayanRental Ritual©
Lay in the shade or in the sun according to your preference. You can read a book or close your eyes and tell yourself there is no email important enough to interrupt your peace and quiet
Deep breath in from your belly for a count of 3, hold for a count of 5 and exhale slowly for a count of 7. Repeat this as needed.
When you get uncomfortably warm. Swim across the pool and back. Get out and drip dry .
Repeat Step #1
Rinse / Repeat
Insert a pina colada or margarita at any point
Day One
You can opt for the quieter, more opulent Grand Luxxe , upgrade to a Loft, or take less expensive Grand Mayan option with it's lively pool area and lazy river. If the options confuse you, check out our Grand Mayan / Grand Bliss/ Grand Luxxe/ Loft comparison page. After you check in, all units have fantastic pool areas to conduct the MayanRental Ritual and all have attentive service with great food and drink. Try one of their creative cocktails like the Chocolate Monkey. Or just go with whatever is on the daily "two for one" special. Nothing could make a better start to your vacation. You can have Ceviche or Nachos at poolside to avoid any interruption to your unwinding process.
Dinner tonight is at one of 20 top quality restaurants of every genre. Make sure to check with your concierge for reservations. Some of the most popular , like the Italian favorite Tramonto , will require a reservation. For some reason, Burgers Custom Made is our usual choice for the first night. Maybe because we had the best cheese cake ever and keep going back to make sure it really was that good. Don't be fooled by the name, it is a classy place crazy burger options and some nice steaks.
Day Two
There are two 18 hole golf options, the Jack Nicklaus redesigned Nayar and the new Greg Norman. If golf is on your vacation to do list,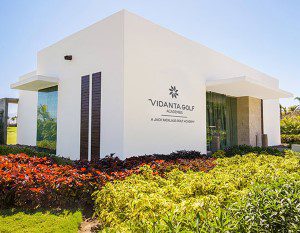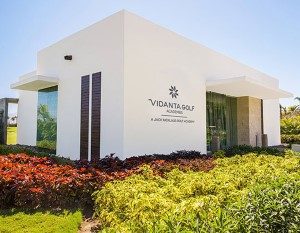 you may want to sign up for golf lessons at the Jack Nicklaus Academy right on the resort. Ask us about how to get advanced golf tee te An alternative active day is to take the day trip to Las Caletas beach with Vallarta Adventures. It is a fabulous all day experience, complete with a monkey on your shoulder for photos.
On resort, check out the deli for lunch with custom sandwich's, crepes and really tasty salads of every variety. While you are there scout out the other high quality foods at La Plaza bakery and grocery.
For the afternoon, you can hang around and shop at La Plaza or stroll the beautiful jungle grounds this afternoon to unwind.
As we mentioned in our Riviera Maya post, for dinner , one of our favorites in Vidanta Nuevo Vallarta is also The Gong. The Asian and Seafood choices have something that will make every palate a happy palate. Sushi lovers will also not be disappointed.
Day Three
A little pampering is in order at the Luxxe Spa (the Spatium) or the Brio spa depending on which end of the resort you are staying. You can choose a relaxing or a deep tissue massage. If you are not used to deep tissue, ask for medium pressure or prepare to occasionally let out a few little screams. You can add on almost any spa treatment you can imagine. Insider Tip: Guests in the Grand Luxxe, Loft , or Grand Luxxe Spa Tower can reserve an hour at the outdoor wet area at the Luxxe Spatium. It has steam, dry sauna, cold pool Jacuzzi and showers.
There are also many active alternatives to the spa like dance lessons, beach volley ball, ping pong, tennis courts and water sport rentals.
Lest you forget you are in Mexico, you can find some delicious Mexican food option at La Cantina. It is great food and maybe a chance to find out if you like Mezcal. Make sure you eat outside so you don't miss the beautiful entertaining laser light show
Day Four
Any time you run out of things to do, you can return to the MayanRental ritual or explore your resort guide for the myriad of activities like introduction to Spanish or Cocktail lessons.
An upscale dinner tonight could be Italian at Tramonto or French at Azur. Fabulous food with attentive service. Check out what the live entertainment schedule is for the week. This might be a good night to visit the spectacular Santuario performance venue.
Day Five
Here are two different paths you can follow today.
Path One: If you need down time
If this is you, I recommend repeating one of the previous days above. For some people, this type of activity (actually non-activity) is a critical part of vacation.
If you stay on the resort, this evening (or whatever evening is Thursday) you can enjoy the Mexican Fiesta on the Beach with a buffet full of authentic Mexican dishes accompanied by a cultural evening of Mexican music and dancing.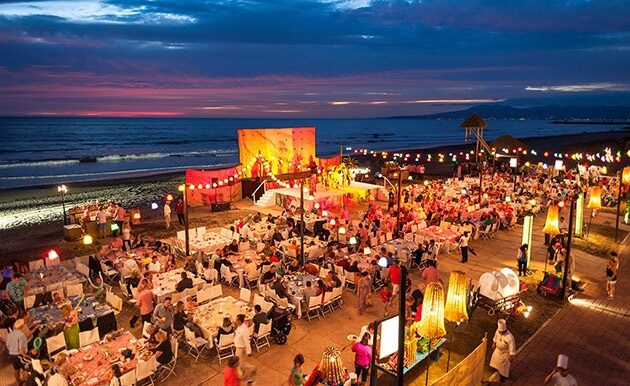 Path Two: If You Are Ready To Be More Active
Vallarta Adventures offers a huge variety of activities off resort including sailing trips, whale watching (November to early March), zip lines (also check out Canopy River for amazing zip lines, and yes that is me hanging upside down), Rhythms of the Night dinner theater, and much more. They are located right in Nuevo Vallarta and are amazingly well run.
Another active option are the walking tours offered by Sandra Cesca. We have done two of these and they are a great way to experience a little of real Mexico.
Finally we have to mention the fabulous food tours available (like the Mole Pozole tour we took a while back).
Day Six
Before you leave this paradise, you really should have a relaxing walk north for a mile or so up the beach to the marina or I guess you could
work out at the state of the art exercise facilities. As mentioned there are exercise and yoga classes available daily.
Tonight dinner could be Cuban at Havana Moon on the beach by the Grand Bliss pool. . Nice to be right on the ocean for your last night.
Day Seven
If you only have seven days, make sure on this last day you go to the best breakfast buffet in the world at the Del Lago before returning to the hussle and bussle.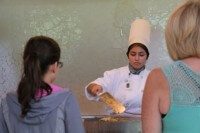 Maybe you should have booked two weeks…
Anyway, book now to try out our one week itinerary at the Vidanta Nuevo Vallarta Resort.