Staying in the Vidanta Grand Mayan means we were in San Jose del Cabo. For our last day there, we headed off to Cabo San Lucas . We realize from out last trip that there is no parking to be had in the main part of town. All the curbs are red or yellow indicating your front license plate will be pirated by the local police. We missed the parking ramp the first pass and had to circumnavigate the entire downtown one way streets and finally came back around. Once parked, we grabbed breakfast right on a touristy stretch overlooking the Marina in a place called Alexanders. It clear they serve the cruise traffic. Most of us got the Fritatta Alexander. They lost power in the kitchen so it was quite a few Mexican minutes before it came. But they were very good when they got there. We were in a rare mood for orange juice and it turned out to be fresh squeezed. BONUS !! The day is looking good so far. We wandered around a few shops, but soon set off in quest of the Glass Factory we had heard about. To the disappointment of my wife, some of our folks were not shoppers. You could spend the day shopping in the downtown area if you are so inclined.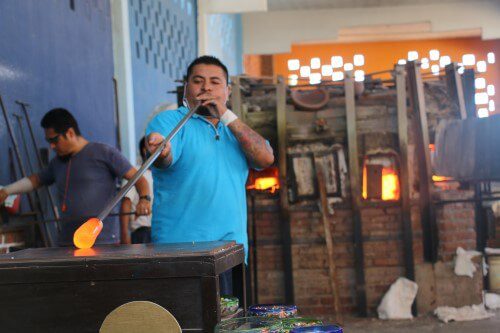 Next on the agenda is visiting one of the glass factories in Cabo. It turns out there are two or three, but you can read about the Glass Factory we managed to find here. You head toward San Jose del Cabo on Highway 1 and once you are clear of downtown Cabo San Lucas, you take the first stop light north on 19.. Then take the first opportunity for a left turn which is just past a hospital. Take the road next to the hospital for two blocks where it dead ends. Turn right and the factory will be on your right in another couple of blocks. The entrance is decorated with some of their handiwork and you enter a show room with hundreds of glass art pieces. The whole building is decorated with glass embedded in the brick walls.
Next find a seat for the glass blowing demonstration. You will watch with rapt attention as a glowing hot blob of glass slowly turns into a dolphin or a flower or a vase. His assistant will drop a glob of molten glass onto his piece, which will become the fin of a dolphin or the petal of a flower. To impress on you how hot the glass is, he touches a newspaper to it and it incinerates instantly. Don't be a cheapskate. Leave a tip for the artist. He deserves it.
As we head back toward San Jose del Cabo, our next mission is to check out a couple of the swimming beaches along the Los Cabos corridor. We checked out Playa Santa Maria and Playa Chileno.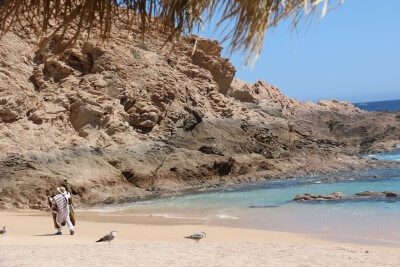 That night , I told our favorite concierge, Humberto, that we were ready for something other than Mexican and he recommended Mi Cocina in San Jose del Cabo. That turned out to be an excellent idea.