Day Trip to Sayulita
Welcome to Sayulita
After breakfast at the best breakfast buffet in the world we headed up the coast to Sayulita, the funky, hippy surfing town.
In 2022 , we were surprised to see more stores, restaurants and palapas on the beach. Recovery from the pandemic seems to be going well. We walked through some shop areas and arrived at the south end of the beach and were offered chairs for 300 pesos each. We asked if that counted toward food. Nope. So we also said Nope. And walked north up the beach. Sure enough, we found chairs with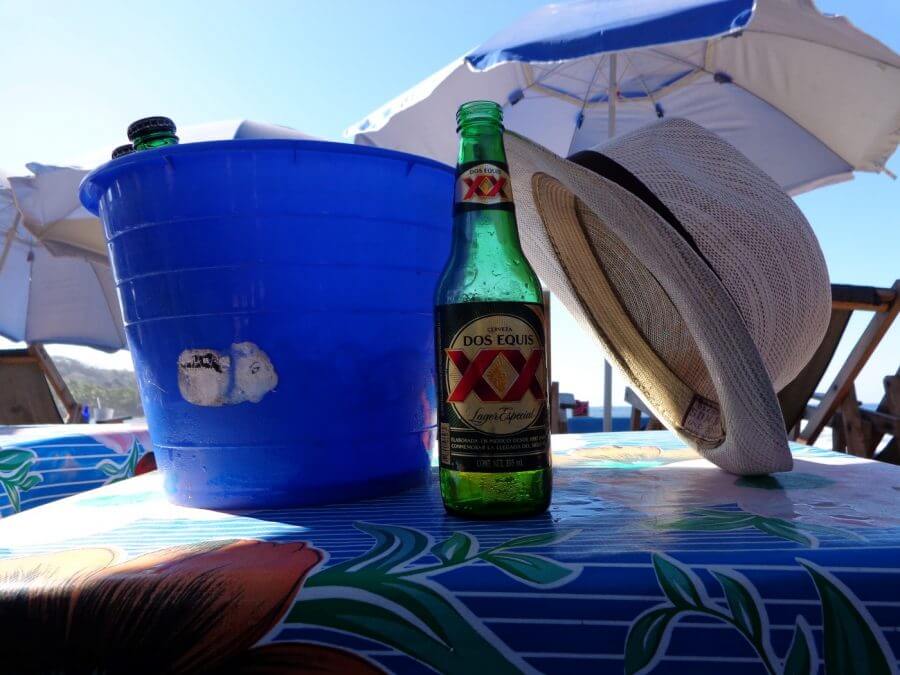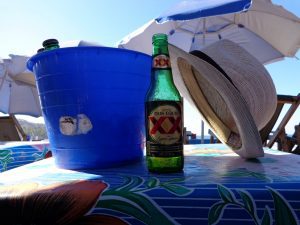 umbrellas with no up front charge. We plopped down and ordered a little food and beer. They are fond of buckets of beer. The queso fundido was just a tad greasy, but absolutely delicious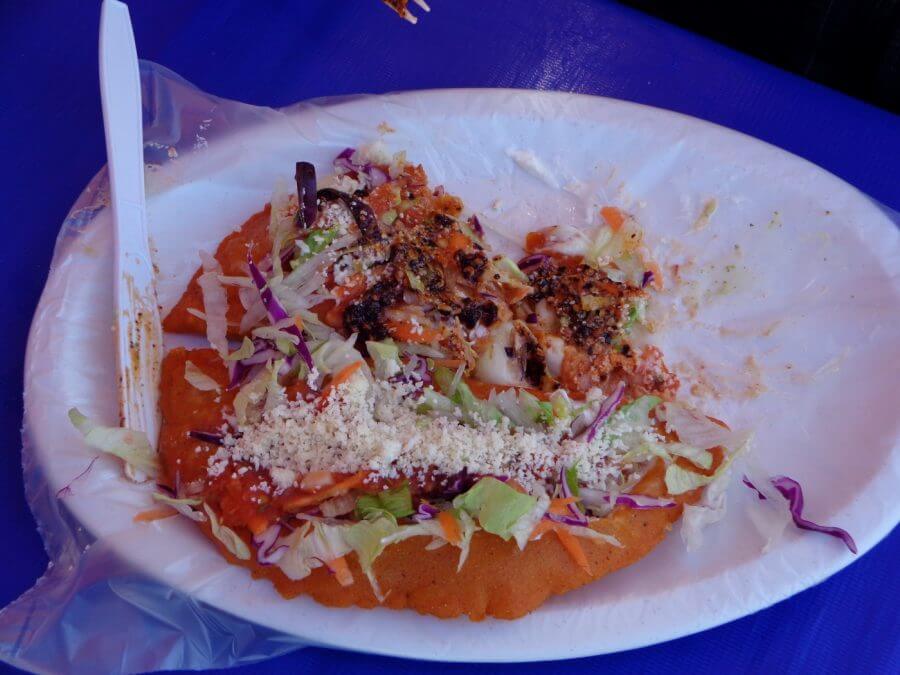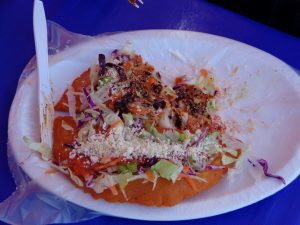 complete with chorizo. We also got an order of guacamole and ended up having ordered 10 coronas and dos equis (2 buckets of 5). All of that ended up being under $20. Gotta love Mexico.
Once we settled in Linda decided to hang with our belongings and the three of us were off to try our hand at surfing. If you are ever going to try surfing, Sayulita is the perfect venue. The waves break where the water isn't yet over your head.
Patricia's Surf Lessons
This is the second or third time I have tried surfing and I am very partial to Patricia's surf lessons. Only $35 for about an hour of lesson.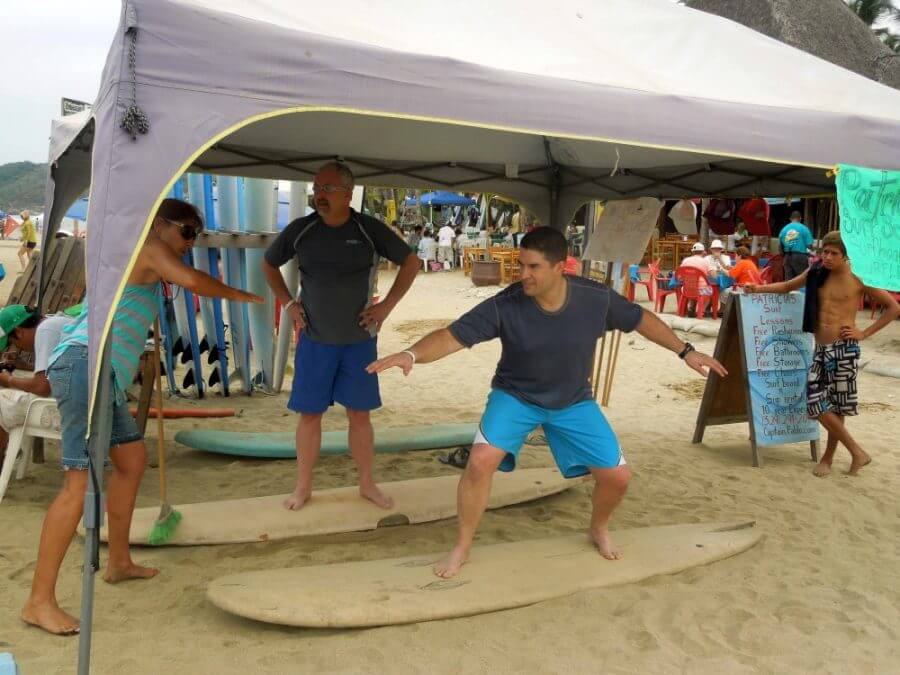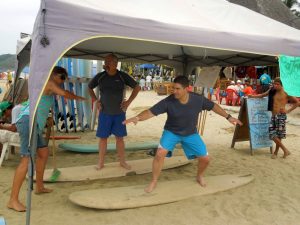 An hour is about all you can take before you need a rest. I thought my previous experience would pay off , but the waves were a bit higher today and I didn't really shine. Still an absolute blast. Daughter and son-in-law also had a great time.
If surfing is not for you, the warm water and medium waves are great for just playing in the ocean.
Back at the palapas, we did have to discourage a stream of sellers hawking everything you can imagine. Small price to pay for a relaxing day in hippie heaven.
Food Options in Sayulita
For some reason we haven't eaten out much in Sayulita, but many blogs rave about the options. Here is a mashup of our experience and comments from other blogs.
Several restaurants serve food on the beach . It is hard to beat lunch under a palapas people and surf watching.
ChocoBanana: This is a totally touristy place on the main square. We have done breakfast when we didn't have it at Vidanta first and it was delicious. They do chilaquiles very well. And don't forget to try the Chocobanana for dessert. They claim to have invented it.
El Itacata - try the hibiscus flower quesadillas, the chicken with raja tacos, the mahi mahi tacos, the shrimp tacos, simple but delicious
Sayulita Cafe – This is from another blog : "we had pollo mole (the best negro mole I've EVER had and we've had moles in Oaxaca), the arrechera (a kind of steak entree), the red snapper (whole fried), and the chili rellenos, all excellent, large portions, potent margaritas"
Panino's - less than a block from the beach, excellent coffee and good pastries and breakfast sandwiches. Don't bother with other places for coffee if you are a coffee snob like we are, nothing even comes close.
Mariscos Purillo's - on Revolucion before the bridge as you're coming in to town; great ceviche, grilled shrimp tacos & mahi mahi tacos are superb
Getting To Sayulita
We always rent a car when in Nuevo Vallarta, so it is a pleasant 40 minute drive. Just make sure when the road splits to Punta Mita / La Cruz, you stay on the fork that goes to Sayulita. If you don't want to drive, there are a couple other options
If you are the adventurous type, there is what gringos affectionately call the chicken bus. You will have to get into Nuevo Vallarta to catch it It is definitely the cheapest option and a cultural experience.
Getting out of the Vidanta resort is now more difficult, so the easiest option is to simply take a taxi . Taxi rates are available from the concierge. Always agree on a price before you get in a taxi. This applies anywhere in the world.
Summary
That wraps up our Sayulita story. If you want to try a less bustling, smaller beach town, San Pancho (short for San Francisco) it only a few miles farther north. For us, we love a day trip to Sayulita and usually work it into our itinerary somewhere.