Karen's Place Bucerias
A beach view and welcoming ambience are two things that greet you upon entering Karen's Place, Bucerias. Located right on the sands of Bahía de Banderas (Banderas Bay), the establishment boasts unbeatable views of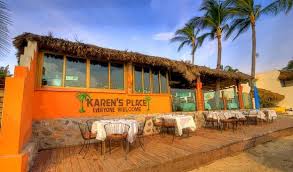 aquatic life and an enticing sunset to boot. Open since November 1998, the business has had a long time to build up its well deserved reputation, and ranks high on the popularity list for many who visit the area.
Multi-Talented Restaurant in tiny Bucerias
The restaurant can host a wide range of patrons, from wedding parties to intimate meals for two, and proved to be a perfect setting for our dinner party of 10. With an extensive menu and widely loved drink selection, there is something to suit everyone's taste.
If you're looking for good meals, a great view, and a friendly staff, then this is a must-see while in Bucerias. The experience will not disappoint, and you just might leave with a new favorite.   Based off of the upscale flair of the food alone, you'd assume that the environment would follow suit. However, the staff proved to warm and amiable, with no sign of pretentiousness throughout the night. The laid-back aura went even further when they allowed us to bring in a bottle of our favorite tequila to share with our friends. Not to worry if you prefer a merlot or chardonnay to tequila, the wine menu has a generous array to choose from, so you're bound to find something you like.
If you're the adventurous type, or just want to try something different, the daily special might be up your alley.  When we went, the special was the catch of the day served with a coconut curry sauce,and it was absolutely delicious. A few in our group preferred something more tried and true, choosing the Sabores de Mexico, a sampler of traditional Mexican foods. They were equally enthused with the quality of their meals. The dinner menu alone boasts 14 entree options along with nine appetizers and six soup and salad choices, providing enough variety to appease even the pickiest of eaters.
Karen's Place is an area favorite, whether it's thirsty beach-goers stopping in for the happy hour specials, a passerby looking for a satisfying breakfast, or, like us, a group looking to have a celebratory night together. It has something to offer for just about everyone, and its location makes it easily accessible from either the beach, or from the city.   You can find info,menus etc on Karen's Website
Getting There
Located at 156 Lazaro Cardenas street in Bucerias , getting there from the main strip is fairly simple. While traveling southeast on Blvd. Riviera Nayarit, keep right and continue on to Heroe de Nacozari Ave, turn right on to Benito Juarez street, and follow it to the end. The outlet will put you right  next to the restaurant.
If you're traveling on foot from the beach or city, Karen's Place sits between Benito Juarez street and Abasolo Street, and, as aforementioned, is right on the sands. Make your way down to the beach and you'll stumble upon Karen't Place  in no time!