Yelapa Overnight Trip
We have been planning to take a trip to Yelapa for our last 3 times in Puerto Vallarta. We got the urge again this year and did last minute google searches to find a place to stay. Too Late.
Then we met Hector ( you can read about Hector's Casa Bahia Bonita in a separate post). Now that we had accommodation, we needed to get there. You can take an hour boat ride from Los Muertos pier, but since we
had a rental car, we drove south of town (on the only ro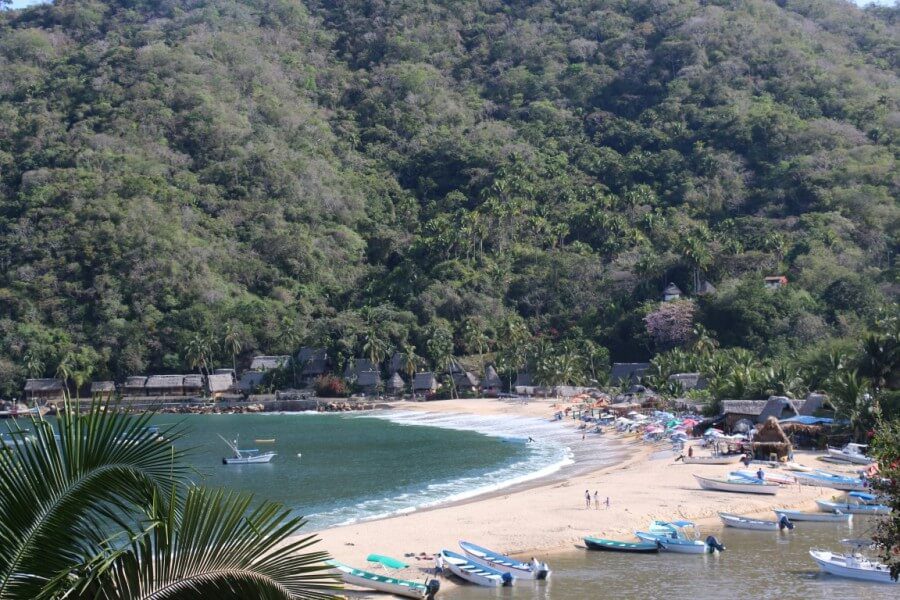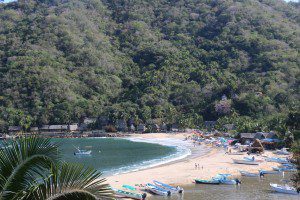 ad there is) to Boca de Tomatlan a small village with parking and water taxis. There is no sign, but sincer there is only one small street that plunges off the main road into town to the river mouth, we had no problem. People are happy to help you find parking (for a cost of 50 pesos per day). The schedule for the ferry is really only a suggestion but, worst case, you shouldn't have to wait more than hour.
A short half hour of bouncing later, you turn into the gorgeous inlet .
What is Yelapa?
Yelapa is a small fishing village in a protected lagoon and a beautiful beach. It is protected from development by the absence of a road. You can only get there by boat. It looks like a friendly giant sprinkled houses down the mountain side, with most of them near the water's edge on the right side of the bay. tIn the middle of the bay is a beautiful beach of crushed coral (beautiful until you walk on it with bare feet), with softer sand going into the water. On the opposite end of the beach from the village, our accommodations stands on the mountainside, sticking out of the jungle, for stories, the color of bright orange coral.
We dumped our luggage and proceeded too plop down under a palapas on the beach. Linda looks over and at me and says " What are going to do for the next two days?" I replied " This is Yelapa. You're doing it ! "
A Uniquely Mexican Drink
I finally tried a Michelada. It is mad with a Corona beer, Clamato juice, lime juice and hot sauce. I am still not sure what I think. Try it yourself and tell me what you think ! Warning, I think the Mexicans consider it a "girly" drink.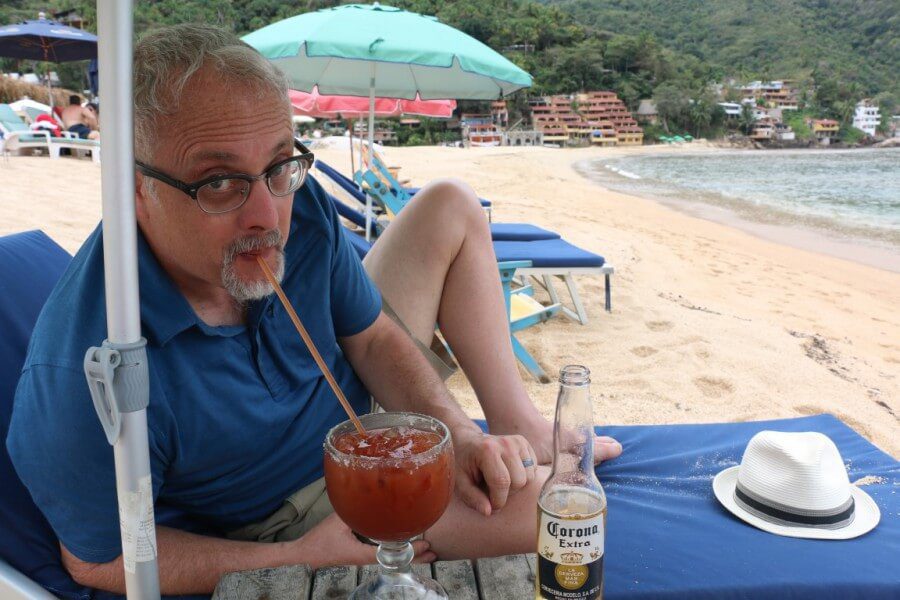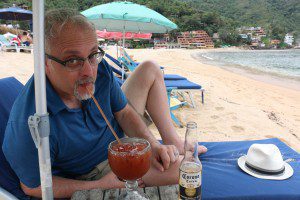 After an afternoon of people watching, dog watching, and iguana watching, all the day trippers left and we retired to a beautiful quiet meal at the La Lgunita " hotel" restaurant. I had some huge shrimp stuffed with cheese and wrapped with bacon over julienned vegetables. Linda had fajitas. everything was excellent. Early to bed and a very pleasant to sleep on a comfortable bed to the sound of waves right below your apartment at the Casa Bahia Bonita.
Day Two in Yelapa
"Early" next morning after loading up on chliquiles in tomatillo sauce, we headed for the waterfall up the valley. We didn't realize we would be crossing the river on the south end of the beach. At high tide , it is thigh deep and after a recent rain it was muddy. This leads to the first of my "Ten Things They Don't Tell You About Yelapa". Bring water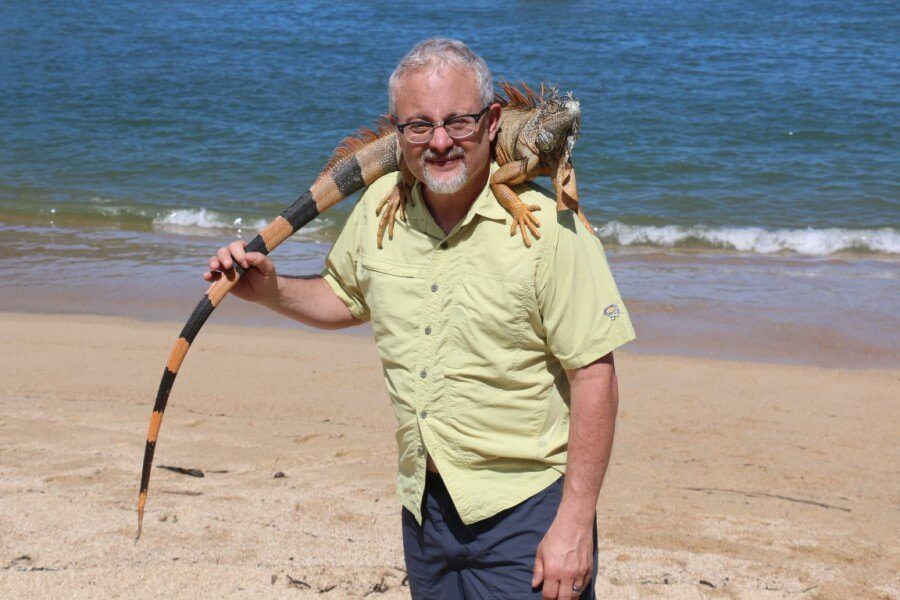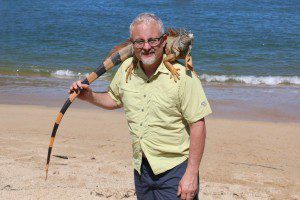 shoes. After a bit of dancing and limping across, we found our way up to a main street into the village. There are signs to the waterfall, so after a 10 or 20 minutes (whose counting) we were sitting and enjoying the beautiful waterfall. And because we stayed over night, we had it all to ourselves. We missed the droves of Vallarta Adventures that come in later In the morning. On our lazy wandering back down, we saw posters for live music at a couple of restaurant/bars in the evening. However, that is on the opposite side of the river from our hotel, and we didn't bring a flashlight. Oops.
We spent another day on the beach today and after a few minutes of struggling with w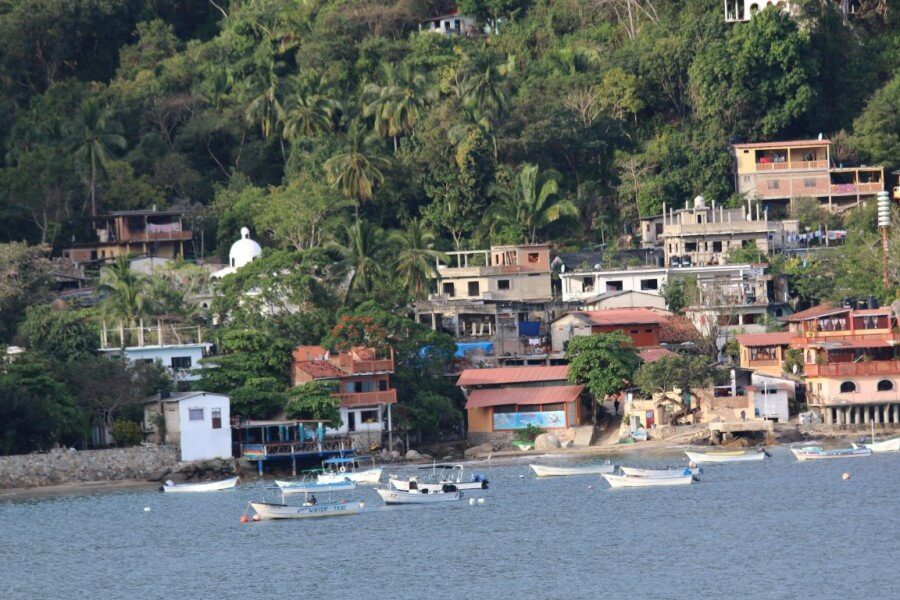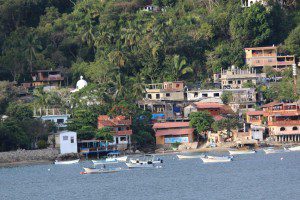 eak wifi and answering a phone call, I wisely powered down and went off the grid for 24 hours.
So we were stuck on the beach side of the river again for dinner. Fortunately, we like the restaurant we were stuck with , so it was all good.
One more peaceful night and it was back to Puerto Vallarta. But not before a stop at the Botanical Gardens.