New Loft Studios Available at Nuevo Vallarta Resort
Just in time For New Year's, New Loft Studios are Now Available at the Exclusive Extension of the Grand Luxxe Lofts…
starting 12/29 and 12/30 , $300 discount
It's that time of the year we finally say adios to summer and welcome the cooler months of fall. And we know, it can be a bit difficult for some of us to fully let go of the promise of warmer days.
Though, lucky for all of us not ready to say goodbye quite yet, there is a bit of warm sunshine at the end of the tunnel.
So don't pack away your sunglasses and beach clothes just yet…
The super-exclusive Tower 5 of the Grand Luxxe Resort has just made several of its loft studios available. Meaning that you can now experience the five-star accommodations of Vidanta's Nuevo Vallarta Grand Luxxe in a more intimate and cozy setting.
That said…
To call the rooms anything short of breathtaking, would simply be an understatement. As all of the same luxury and world-class accommodations Tower 5 has become famous for, are still very much present in their loft studios.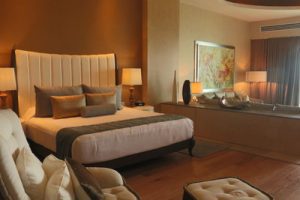 Experience Mexico Like Never Before…
The newly available loft studios are perfect for a romantic getaway for any couple looking to escape the coming months of winter chill. And of course are perfect for seeing a side of Mexico not experienced by many.
Once you step in, you're greeted by a large landing complete with a bed fit for a king. The room itself spreads out to reveal a beautifully decorated interior, complete with living and dining spaces. And if the beautiful interior was not enough to take your breath away. Each studio loft has its own balcony for catching the last rays of sunlight each evening or simply enjoying the sunshine in private.
Feel free to take a look for yourself , and see a video of the beautiful interior of the Grand Luxxe Loft Studios…
Access to Tower 5's Exclusive Rooftop Pool and Newly Opened Restaurant, Quinto…
Beautiful as the view is, something even more grand waits just above your accommodations. You'll find that every loft grants you access to the exclusive rooftop pool perched high above the resort. Though if swimming among some of the best views of the entire coastline isn't quite enough, even though it should be., Tower 5's newly opened restaurant, Quinto, will allow you to experience fine dining with unparalleled views. As beautiful as the entire resort is, a sunset dinner at Quinto is something that just has to be experienced.
Loft Studios at Nuevo Vallarta…
As with all good things in life, availability at the loft studios at Nuevo Vallarta will not be around too long. So to make the best of the opportunity go ahead and visit our availabilities page to book your own romantic getaway this winter.
As of writing we still have three availabilities open the New Year's holiday. And what better way to say goodbye to 2017 while starting 2018 in style than staying in the lap of luxury. You can see all available Vidanta Nuevo Vallarta Units for Christmas/New Years including the Luxxe Loft Studios in Nuevo Vallarta