Nine Best Restaurants in Bucerias
Nine Best Restaurants in Bucerias
We have found for you some great restaurants to try in Bucerias on the Riviera Nayarit in Mexico. Wherever you are staying in the Puerto Vallarta area, you should include Bucerias ( the next town up the coast from Nuevo Vallarta) in your plans. It's a fun little traditional town with a nice mix of expats and locals. You'll love the tranquil cobblestoned streets, charmingly decorated homes, fine beaches and the shimmering Bay of Banderas beyond. Here are your restaurant recommendations.
Trattoria Toscana Mia
Trattoria Toscana Mia means My Tuscan Restaurant and you might expect to find it on a side street of a sun-washed Italian village. Well,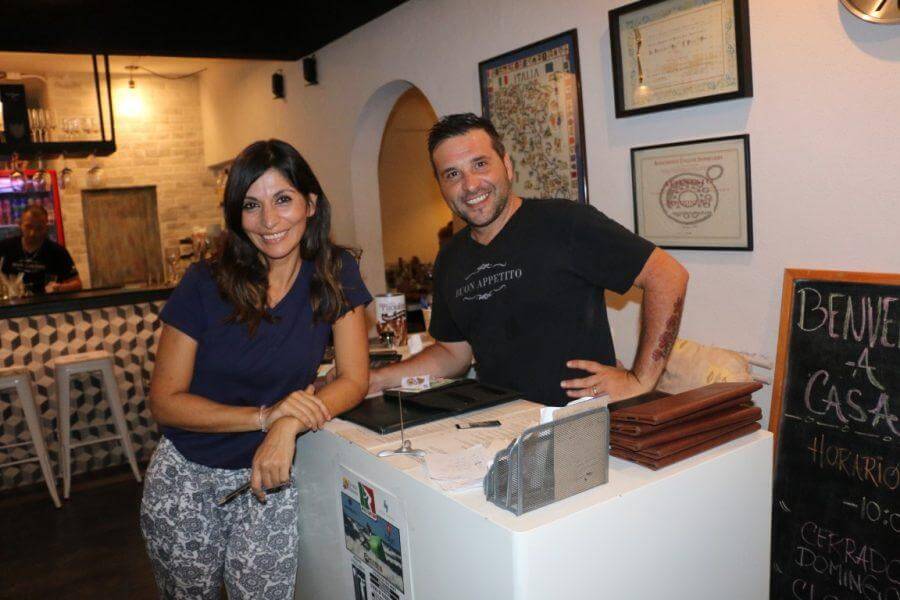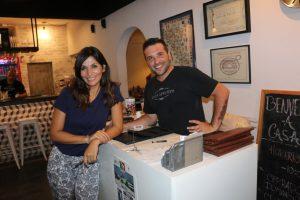 you'd be right about the side street and sun-washed part. This restaurant only opened in an out-of-the-way corner a few years ago. It is now a flourishing business. It is a small place, not fancy, with maybe a dozen tables. Vincenzo and Amine Napolitano, the owners exude their Italian heritage and they are warm and welcoming. They have a variety of Italian wines by the bottle, but offer a very nice house Montepulciano by the carafe, 500ml was only 145 pesos. The menu offers fresh, homemade pasta and dry pasta for a bit less. This is not the time to pinch pennies (or pesos) or be a cheapskate. The particular pastas available varies from day to day. The day we were there they were featuring Pappardelle, Spaghetti, Ravioli with meatballs and a couple more. I went with a chianti spaghetti which is Italian sausage, peppers and onions in red sauce. Linda ordered pappardelle with Chianchitta sauce (not sure about the pronunciation) that came
with black olives and mushrooms in a rich red wine sauce. While we waited, they brought us beautiful, fresh Italian bread with olive oil and balsamic vinegar. Twice during the meal, they gave us little bruschetta (which I do know you pronounce broo-ske-ta). When our pasta came, we were both very happy with our choices. Of course, there were lots of other options on the menu like antipasti and secundo courses of chicken and fish, but we wanted to be able to walk out the door afterward.
Getting there
#25 Hidalgo Street, Bucerias, only about 3 blocks off the main plaza.
Adauto's Beach Club Restaurant
We have not been here yet, but it has a reputation for superb food quality at very reasonable prices. Adauto, the owner is friendly and he makes sure you get a great dining experience. Fish and Shrimp, the Pacific Lobster and the Tortilla Soup are the big attractions here. And why stop at the mains, why not try the strawberry and mango smoothie. And, for cocktails, Adauto has pictured a mezcal with passionfruit on the restaurant's Facebook page. Diners get a combination of great food, great service and a magnificent beach sunset. A visit here is definitely a really nice way of rounding off your day.
Getting there
Av Pacífico 11A, 63732 Bucerias.
Karen's Place
A beach view and welcoming ambience are two things that greet you upon entering Karen's Place. Located right on the sands of Bahía de Banderas (Banderas Bay), the establishment boasts unbeatable views of aquatic life and an enticing sunset to boot. Open since November 1998, Karen's Place has had a long time to build up its well-deserved reputation and ranks high on the popularity list for many who visit the area.
A Restaurant of Many Talents
If you're looking for good meals, a great view, and friendly staff, then this is a must-see while in Bucerias. The experience will not disappoint, and you just might leave with a new favorite. Based on the upscale flair of the food alone, you'd assume that the environment would follow suit. No worries: the staff proved to be warm and amiable, with no sign of pretentiousness throughout the night. The laid-back aura went even further when they allowed us to bring in a bottle of our favorite tequila to share with our friends. Not to worry if you prefer a merlot or
chardonnay, the wine list is generous, so you're bound to find something you like. If you're the adventurous type, or just want to try something different, the daily special might be up your alley. When we went, the special was the catch of the day served with a coconut curry sauce, and it was absolutely delicious. A few in our group preferred something more tried and true, choosing the Sabores de Mexico, a sampler of traditional Mexican foods. They were equally enthused with the quality of their meals. The dinner menu alone boasts 14 entree options along with nine appetizers and six soup and salad choices, providing enough variety to appease even the pickiest of eaters. Karen's Place is an area favorite, where, like us, you are part of a group looking to have a celebratory night together. It has something to offer for just about everyone, and its location makes it easily accessible from either the beach, or from the city. Please bear in mind, though, you need to make a reservation.
Getting There
Benito Juárez 12, Zona Dorada, 63732 Bucerias
Sandrinas
There are some of you who might have a taste for the Mediterranean. The Mexican food in Bucerias is great but there are places where you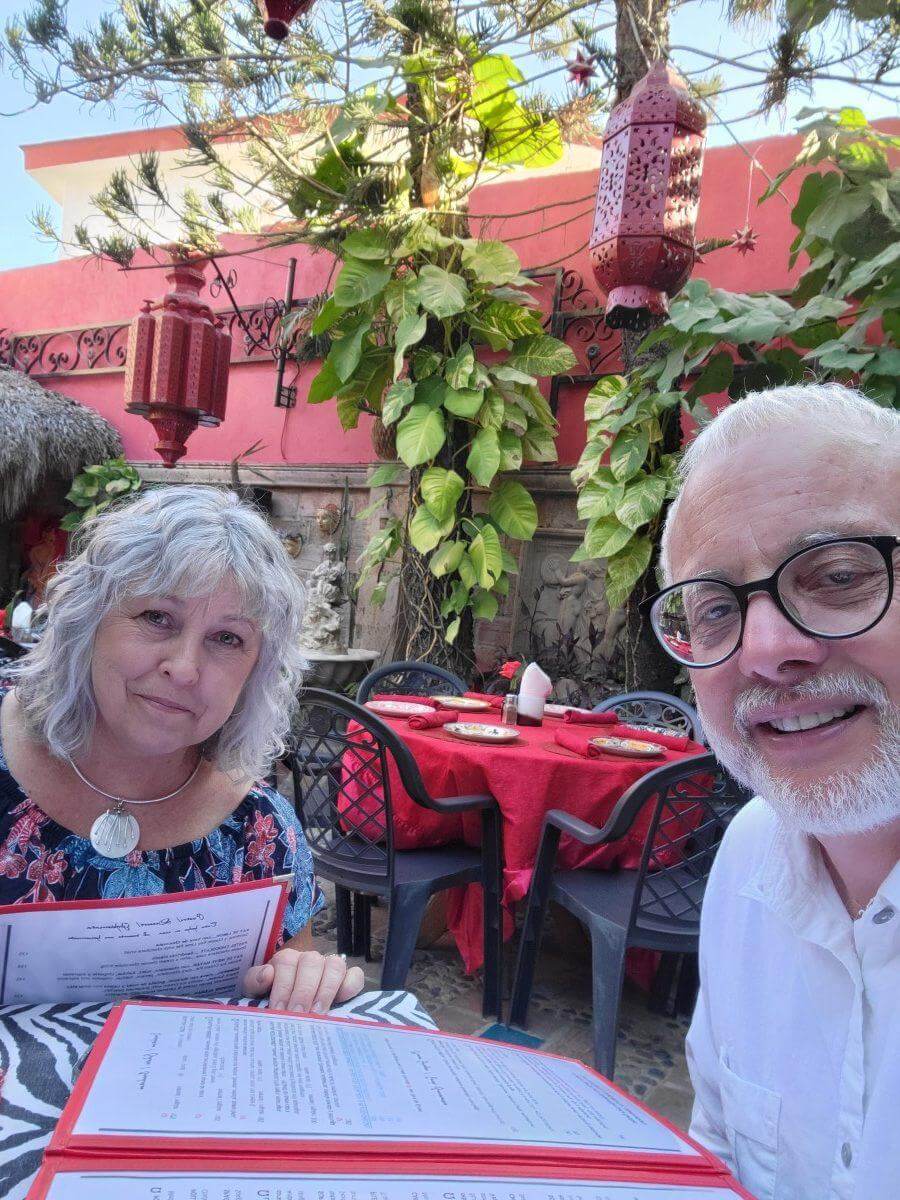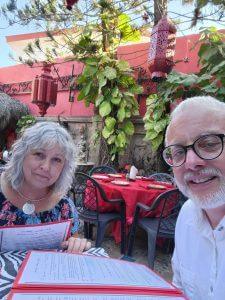 can enjoy some excellent Mediterranean cuisine. For that, Sandrinas certainly has you covered. Sandrina, the owner, is herself Canadian… so you get the Mediterranean experience with Canadian hospitality. The restaurant has a very classy dining room and garden area. When you walk in, you are greeted to a treasure trove of art and glassware. For dinner, the standout dishes are the grilled lamb chops and spanakopita. Try out the Cadillac margarita. It's strong, going by a tripadvisor reviewer.
#39. It is normally a busy place so best make a reservation in advance.
Getting there
Calle Lázaro Cárdenas, Las Palmas 33 Colonia, 63732 Bucerias.
La Negra
La Negra is quite the little gem. It is situated in the oldest house in Bucerias, under a very distinctive looking old tree.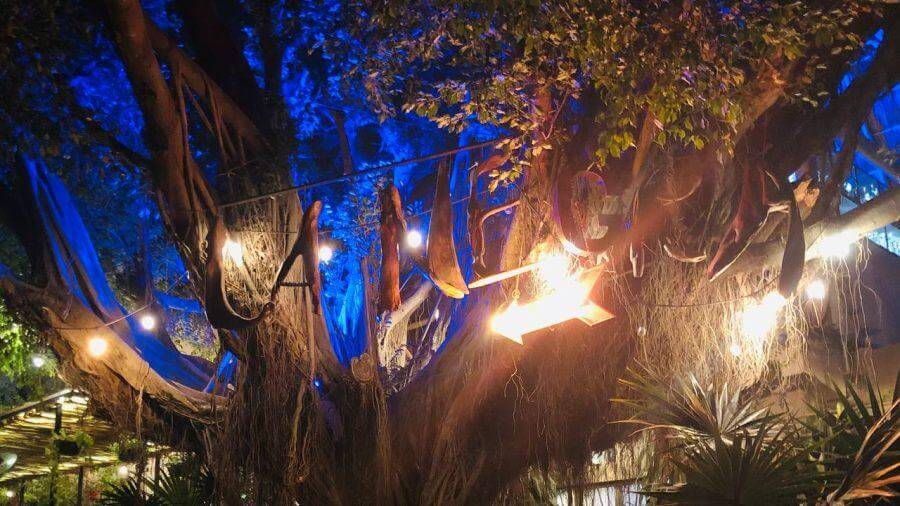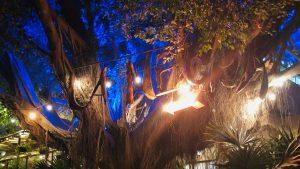 All the food was good, but most notable were the mahi mahi, the octopus taco and shrimp taco. If you like mole, their mole enchilada is superb. For drinks, their mezcal cocktails are definitely worth a try. And for dessert, why not indulge in the homemade brownie and ice cream. La Negra takes reservations. If you like a rustic setting to your dining, do ask for the garden area upstairs. The garden is open air and has a lovely treehouse-like feel to it.
Getting there
Abasolo 11, 63732 Bucerias.
La Postal
La Postal is a quaint, chilled-out Italian restaurant on a street corner which has a pleasant outdoor seating area. It is a very casual place that has fabulous Italian food that is a great stop-off for lunch or dinner. La Postal does a wide range of wood-fired pizzas which have certainly lived up to the reviews. These dishes have had a shout on social media: caprese salad with guacamole, and some nice homemade pastas. We have reviewed their margaritas here. La Postal does some great gelati, a really nice way to finish up that Italian experience.
Getting there
Calle Lázaro Cárdenas s/n, Centro, 63732 Bucerias.
Mar Y Sol
This is our go-to basic Mexican location. We always sit on the beach with the surf just a few feet away. All the food is good quality, and the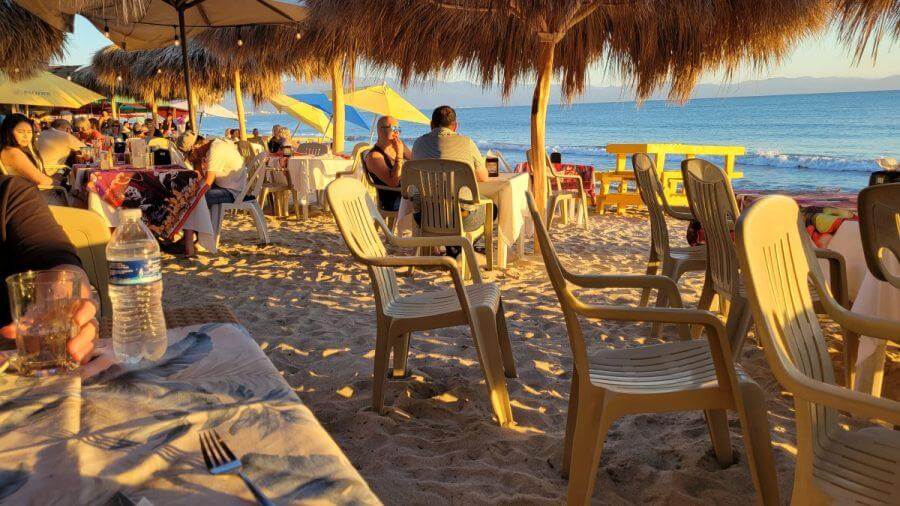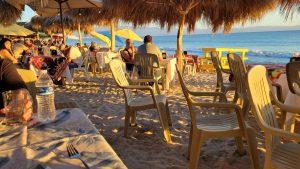 restaurant often hosts live music. And they did well in our margarita post. Mar Y Sol is noted for seafood: we had the most amazing, gigantic shrimp. It does a very good fisherman's platter and red snapper. There's a good non-fish selection too: reviewers have noted the grilled bread and fajitas.
Whether it's a light lunch or an end-of-the-day dinner, you will find this whole beachfront venue, with the waves lapping against the shore, a good slice of authentic Mexico.
Getting there
Av Pacífico 4, 63732 Bucerias
Fat Boy Seafood
Situated on the beachfront, Fat Boy Seafood offers dining-with-a-view. This restaurant also gets the thumbs up from the locals… you will see a lot of them dining there. We ate here for the first time, on our last trip to Bucerias, and everyone had the bacon-wrapped shrimp stuffed with cheese. It was AMAZING. Other highlights are the lobster platter which comes with king prawns and large scallops, bread and vegetables. The restaurant has a good reputation of serving generous portions. It also does some great margaritas too! I hear some of the cocktails have a kick!!
Getting there
Av Pacífico 6, 63732 Bucerias
Esquina 22
This restaurant got a first in Bucerias as being the first gastropub and has lived up to that name, offering dishes made with high-quality
ingredients. We were with a friend who comes every year. He also told us about the tuna steak. They ran out the first time we were there, so we came back, and it lived up to our friend's hype. Absolutely perfect. Our friend Mary had lamb and beef meatballs and she proclaimed them fabulous. The live music there was over-the-top excellent. The music is upstairs, which you might not even realize is there. Be sure to ask if there is live music up there. Also a great place for sunsets. Overall, one of our favorite spots.
Getting there
Av México 22, Centro, 63732 Bucerias
Summary
So, there you have it! Nine awesome ideas for you. What these nine restaurants have in common is their closeness to the beach, and how great they are for friends and families. Almost all of them do live music. You can't do them all, but any of these nine best restaurants in Bucerias will leave you satisfied and happy.