Nuevo Vallarta Trip March 2015 - Days Five to Seven
Day Five
A little yogurt we picked up from the grocery store and it was off to another grueling day at the pool.
Interesting that chicken nachos are at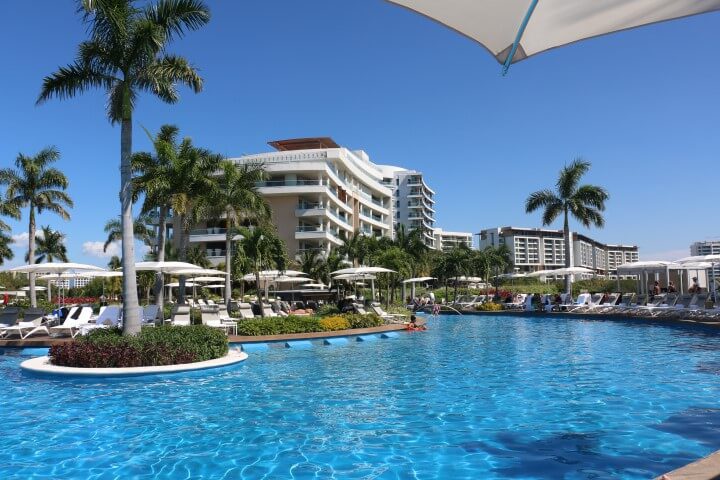 their best when consumed pool side.   Hey wait,  what happen
ed to daily exercise?   It somehow seems less important now ?  Maybe it's the darn happy hour.
After a late afternoon visit with one of our owners and their family, we headed off on foot to the Marina again for dinner.   We went for a familiar choice and had pasta at Guidos's,  a local institution for informal Italian food.
Day Six
Started out my birthday with a touch of elegance. The new Azur French restaurant on the resort has a fabulous view and exceptional service.  The food is good, but not very imaginative.  However, the ambience is great.  Later, after a frustrating bit of time trying to keep up the business on the internet , which  was having a VERY bad day,  we headed off to Old Town Puerto Vallarta.   We always enjoy soaking up the culture strolling around  Old Town and Los Muertos Beach.  As a birthday gift to me, Linda let me buy her some jewelry from her favorite shop , Cassandra Shaw.    We had an reservation  at Anejo Limon for dinner and I enjoyed a chicken and shrimp coconut curry dish, while Linda had excellent beef short ribs, one of her comfort foods.  All in all ,  a wonderful relaxing birthday.
Day Seven
Finally generated a little motivation and spent 45 minutes on the elliptical and treadmill  at the Luxxe Gym.   Later in the morning,  we decided to check out the Sunday Market in La Cruz,   a marina town  that is twenty minutes up the coast.   We stopped at the townes center plaza and were disappointed to find only a few craft stalls.   Then a local pointed us to the marina and we discovered the real market.  A huge collection of food and crafts presented by locals and a variety of expats from the U.S. and Canada, judging by their accents.  They was lots of organic "this" and green " that" , but overall it was the best market we have ever seen in Mexico.
AS we got back to our car , it started to sprinkle and the rest of the day was a unseasonable deluge complete with thunder and lightning..  Dinner report in the next post.