Guide to the Nuevo Vallarta Vidanta Resort Pools
Vidanta Nuevo Vallarta Pool Area Info
You can find all these areas on our Nuevo Vallarta Mayan Resort map
Grand Mayan Pools
Grand Mayan Pools are right behind the the Grand Mayan buildings. There is a lazy river, multiple pool areas , a Mayan Pyramid with a water slide, and two wave pools All guests have access except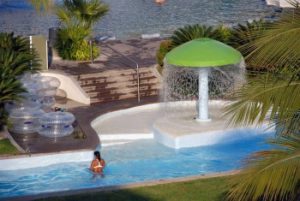 Mayan Palace guests.
Grand Bliss Pools
Grand Bliss Pools, walk straight behind the Grand Bliss toward the ocean and right before the beach is the Grand Bliss pool and the Chiringuito tapas restaurant. It is open to Grand Bliss and Grand Luxxe guests. The restuarant, of course, is open to all.
Mayan Palace Pools
Mayan Palace pools are quiet and peaceful by the beach behind the Mayan Palace and La Plaza. All guests have access. One pool is adults only (don't get excited , it just means no kids)
Luxxe Pools
There are three Luxxe pool areas the Punta pools can be reached by walking straight through the Punta Pre
sidential building. Luxxe 1 pools are best reached by walking through the Luxxe 1 building lobby. Only Luxxe /Residence guests have access. Finally, the new Spa Tower pools are on the river side of Luxxe building 4.
Residence Pool
There is a pool exclusively for guests of the top of the top new 4 bedroom residence units. guests on the top of the Residence building.
Where are the warm pools?
Ok, this isn't new, but we just figured it out and thought we should share. All the warmest pools are at the right (north) end of the string of pools at each location. At the Grand Mayan, this is right in front of the Samba restaurant. At the Grand Bliss pools, go right as you enter the pool area from the Grand Bliss. For the pools next to the Luxxe One building, the warm pool is closest to the Blue Fish restaurant. We didn't get a chance to check out the Punta pools, but we are guessing the pattern might continue. Someone let us know if we are wrong
Of course, if you prefer cool refreshing pools, you want the left (south ) end of each pool complex.
That is our review of the Vidanta Nuevo Vallarta Resort Pools.