Red Cabbage Restaurant - Old Town Puerto Vallarta
At the end of a busy day , we set off in search of the Red Cabbage restaurant.  We had h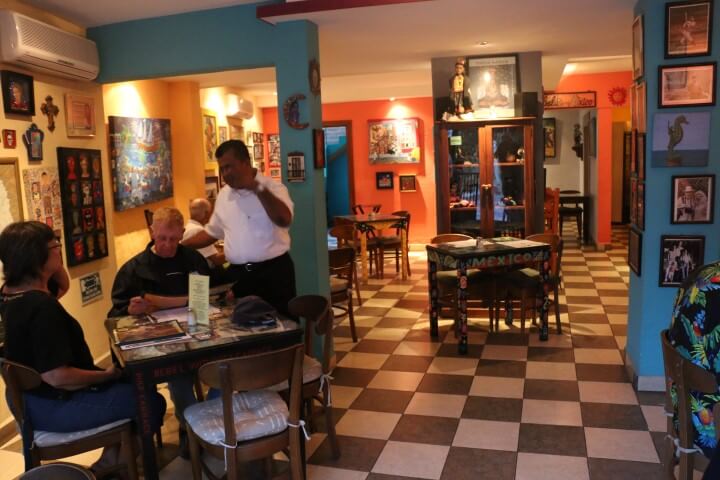 eard about it from some Canadians last year and it appears on many restaurant reviews.    Search is the right description.  It is tucked away in a residential area of Old Town (the romantic zone).  My phone died just as we were navigating there and after a bit of family squabbling and U turns, we ended up in a dead end neighborhood with a family dinner party being set up in the street.  They clearly were wondering what these crazy gringos were doing in their family party.  Rapidly retreating, we finally found it.  Turns out it is not that difficult to find if you start with the directions on their website !  We came at it from the wrong direction and found that locals are friendly but no help finding it.  Also the the sign is not large and says El Repollo Rojo on one side and The Red Cabbage on the other side. Note that they are typically closed in September, but open the rest of the year.
It is a funky little place making traditional Mexican dishes very well. We got a young waiter that was not too animated, but we are guessing he was brand new.  The older waiter at the next table was joking and laughing with patrons and it seems a very homey, friendly environment.  I ordered the Poblano mole and it was delicious.  They also make famous en Nogada dish, but they choose to serve it cold, and I couldn't make myself risk it. We love the hot version of poblano en nogada, so we are hoping someone will try the cold version and leave a comment .  A couple of our party had the Pork Verde.  Simple but delicious.  My daughter Rachel went big and ordered the Mexican sampler plate.  She loved it all.  This place lives up to it's reputation.  High ratings on trip advisor and people on the street recommending it.   The self promotion statement on the Red Cabbage website  seems to be an accurate description:  
One of Vallarta's most delightful dining experiences,
the menu features dishes from all regions of Mexico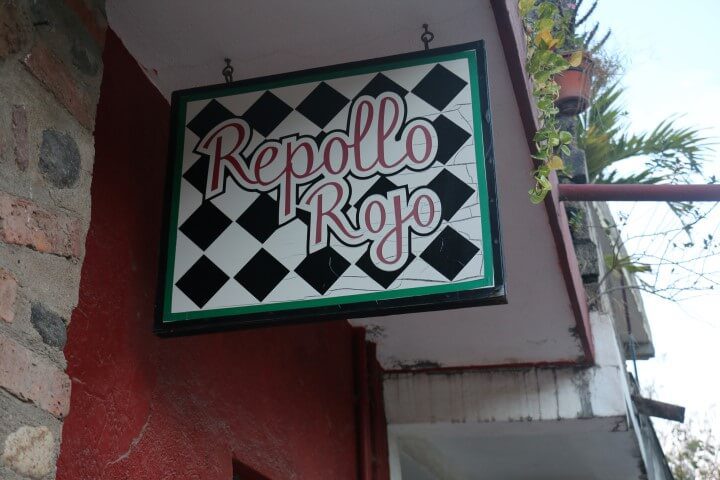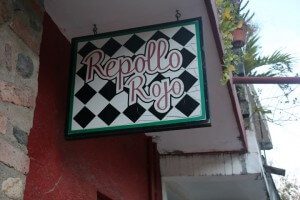 Easily accessible on the south side of the Rio Cuale,
the Red Cabbage Cafe is located in Colonia Remance
(pronounced "ray-MAHN-say").You know you are someplace special when you step
into the lighthearted collage of its decor. On the brightly painted walls is an eclectic display of art, music, theater, literature and film.
Frida Khalo and Diego Rivera are featured on one wall.
Informal but stylish, bohemian but sophisticated, delicious dining
in a delightful setting await Puerto Vallarta's visitors and residents
who are looking for a great food experience.Prices are moderate
and value outstanding.