San Jose del Cabo Artwalk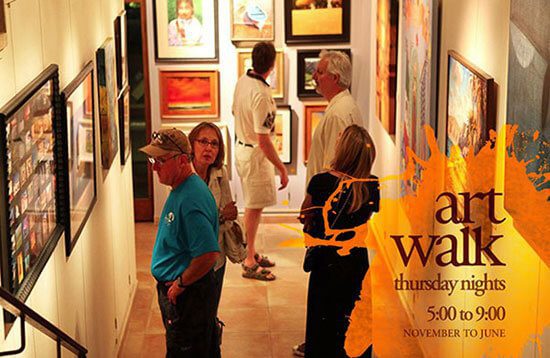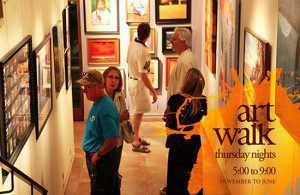 There is no doubt that the main attractions of San José del Cabo or "Los Cabos" are the beach, the sea perfect for surfing, the nice weather, however, Cabo also offers a very nice cultural district, framed by the beautiful calm streets and the colonial buildings of San José del Cabo's downtown.
At the streets behind the Church, you will find a corridor full of culture and art galleries. Those galleries gather the work of Mexican and International artists, some renowned, some other are new talents, but certainly you will find a lot of exquisite pieces of art, combining very different techniques, materials and styles, so whether you are an art connoisseur, an art lover, or just curious about what is going on there, the Art District is a must thing to visit when you go to San José del Cabo.
It is wonderful to visit the galleries and to check out all the items each one of them offers. But if something is cooler than that, is to have a walk specially designed to let you know every aspect of the galleries, maybe also have a little tequila, wine and snacks with the owners and many times even with the artists themselves.
This is exactly what happens during the Art Walk. Art Walks are scheduled for every Thursday from 5 to 9 pm, from November to June. During this time, the streets with the galleries become traffic-free and become completely walking streets. Then you can go through all the galleries, you can go inside each one of them and listen what is it about, what kind of art they provide and many of the artists are there, to let the visitors know about their work, their vision and to let them understand what their art represents.
Since the Art Walk season starts in November, and November 1st and 2nd are the days dedicated to the "Día de Muertos" (day of the dead) celebration, last year's Art Walk season was opened with colorful "Ofrendas" (traditional arrangements with typical decoration, food and flowers, intended to serve as an offering for the relatives that have passed away); and being this an Art district, the Ofrendas were the most original and creative.
You can find paintings, photography, lithography, sculptures, pottery and ceramics, letterpress, jewelry, among many other materials and techniques that you just must see.
Some of the galleries you can't miss:
Galería Corsica – This place will make you feel as in a true contemporary art museum, displaying the work of more than 40 artists, renowned and new. Website: www.galeriacorsica.com
El Armario – This gallery's name literally means "The closet" and its motto is "the cutest shop in town". There you can find all kinds of beautiful things made by artisans from all the parts of Mexico. E-mail: [email protected]
Frank Arnold Gallery – Frank Arnold's paintings have been called "Personal, yet universal". His work has been displayed at galleries around Mexico and the United States and his gallery has been praised by art and travel guides. Website: www.frankarnoldart.com
Arte Gallery - Art studio and gallery founded by the artist Julian Garcia Forcelledo, who has found this Art District the perfect place for his original sculptures. Website: www.juliangarciaf.com