Untouristed Taco Tour Puerto Vallarta
We took the mole pozole tour with VallartaEats.com a couple of years ago and loved it . You can read about that in our post called Mole Pozole. So the last time we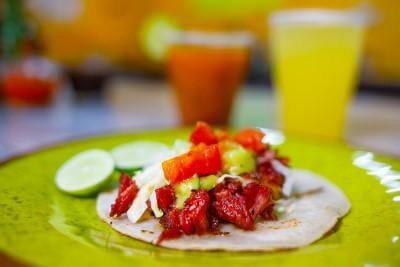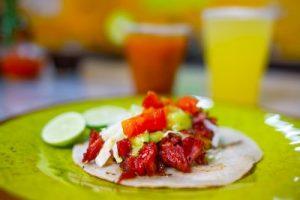 were in PVR, we decided to be just a bit more adventuresome and try their Untouristed Taco Tour. What a great decision. Be prepared for walking as you visit a completely tourist free section of Puerto Vallarta.
Our guide was super friendly and fully prepped us on the history and details as we visited each taco location. The only negative for our particular tour day was that a couple of our fellow "un-tourists" were not prepared for the amount of walking, making things a bit challenging for the guide to keep everyone together.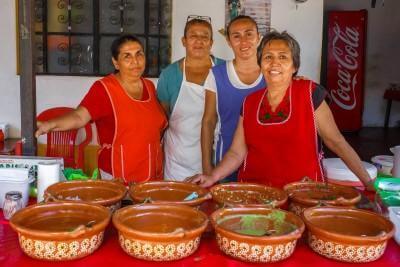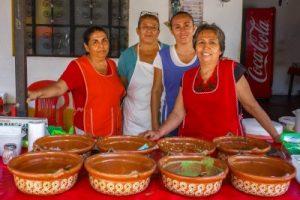 This Puerto Vallarta neighborhood of Colonia 5 de Diciembre has migrants from all over Mexico and you get to sample classic cuisine from different areas. I wish I had taken better notes , but I guess you will have to take the tour to gain more education into these foods. Besides, information is no substitute for tasting. Each unique cuisine we experience was produced by unique and friendly people. And as I mentioned, many are imported from other areas of Mexico.
There is quite a bit of walking on this tour and you will visit the heart of a working neighborhood. We did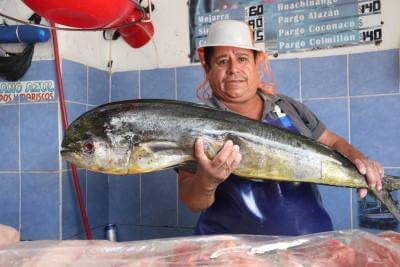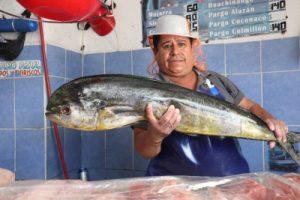 manage to sneak off to check out a vegetable market and couple of churches. On another foray off the path, I captured the amazing photo at the fish market. But our guide was not to be slowed down much , so enough of the photos and on to the food !!
We thought we had seen most of Mexican cuisine, but little did we appreciate the variety of meats and flavors you can put in a taco. We experienced beef barbacoa, birria (goat or sheep), chicken tinga, pork, carne asada (flank steak), smoked marlin, and even head tacos. Sorry, but this tour is not for vegetarians.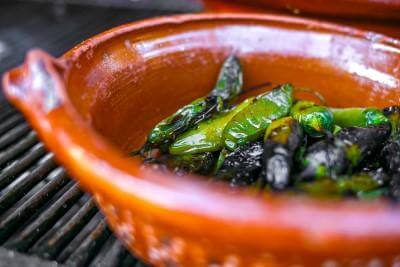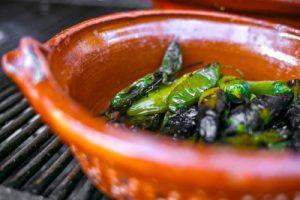 The beef barbacoa originates from Texcoco, just East of Mexico City, was as you might expect, similar to flavorful barbecue sauce.
I know goat in birria sounds like it could be "goaty" , but I am sensitive to gamey taste and the magic red chili stew that has its origins right in Jalisco eliminates the goaty taste completely. It was wonderful and flavorful.
Chicken tinga was our personal favorite. A burst of flavor originally from the state of Puebla. Not super hot, but full of spice. By the way the Spanish word for hot spice is picante and the word for spicy but not hot I think is sabroso or con sabor. It is difficult to get a clear answer to this question.
The pork carnitas was good as always and the carne asada from the beef raising Northern state of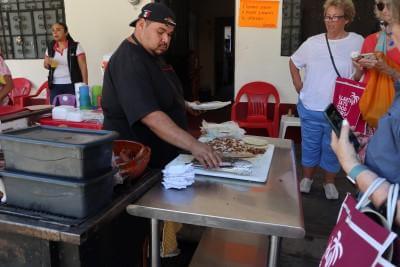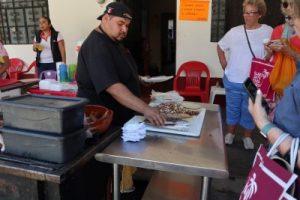 Sonora was both very flavorful and tender. I didn't love the smoked marlin, but then I'm not a true seafood person, so my opinion shouldn't count for much.
We have learned in different countries that walking food tours are a great way to find great cuisine and learn from locals about the culture and the history. The Untouristed Taco Tour was no exception and we highly recommend it. You can find all the info on Vallartaeats.com. We suggest you reserve your spots maybe even the week before you arrive. Many of these tours are popular. Stay tuned, we are planning on doing the Tasting Vallarta upscale tour in March. We will tell you the story.
Below is a very cool example of neighborhood art. If you are wondering what to do next, check out our Jewelry Shopping Ideas.