We are upgrading our perfect margarita recipes post from 2010. "Money can't buy you happiness, but it can buy you tequila which is pretty much the same thing."
Mexican Vacation and Margarita are almost synonyms. We will give you two ways to make the perfect Margarita. Both of them come out ten times better than using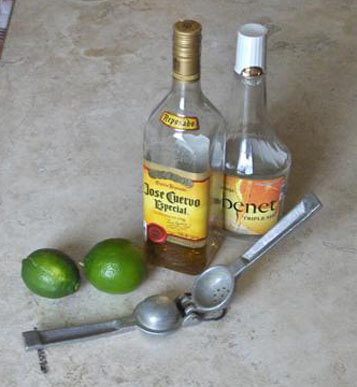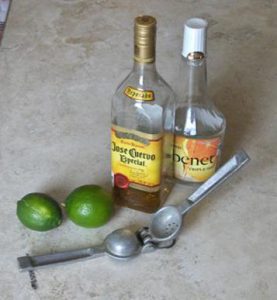 Margarita or Sweet and Sour Mix.
The first one is a simple recipe for use in the U.S. or Canada if you want make one at home to get you in the mood for Mexico.
6 ounces of frozen limeade
6 ounces of tequila
3 ounces of triple sec
All you do is dump the ingredients into a blender and fill with ice. Blend until smooth. Add a little bit of water if needed to thin it to pouring texture.
Some people like to add a little powdered sugar. I personally don't think it needs it.
Recipe Number Two
If you want more authentic or if you are vacationing (say in a MayanRental luxury suite :-)) here is a recipe for you. If your vacation rental has a blender, there's a good chance you'll find a lime squeezer in a utensil drawer somewhere. Check out the picture for a little help in what to look for. Next up is a shopping trip. For each batch you will need:
2 limes
½ cup of tequila
¼ cup of triple sec
4 tablespoons of powdered sugar or regular sugar if you want to make simple syrup.
The Grocery Store
Look for one of the larger grocery stores and find a quality Tequila (price really does mean something). You will definitely need the sugar for this recipe , plus triple sec (any licor naranja will do) and, limes take the place of the limeade in our first recipe. Get Grand Marnier instead of triple sec for the Cadillac version.
If you are in Riviera Maya, don't act like a gringo. DO NOT get limas. Those are only for cooking food like the Yucatecan sopa de lima. Lime soup, De Lima, get it?
The word for limes is limon (say "lee-moan"). The word for lime and lemon is the same, so you should specify limon verde (green limon). Don't say "Vur-dee" or you will get a blank stare from the nice person in the grocery store. Say "bare-day" and they you will be on the way to the check out.
Oh and grab and orange or orange juice (naranja or jugo de naranja) (na-rahn-ha) if you plan to attempt the Cadillac recipe at the end of this post.
Simple Syrup
If you plan to do make a few batches, you should make simple syrup. Just mix equal amounts of sugar and water in a pan (use bottled water , tap water in the resort is safe, but can have a chemical taste). Heat on low heat stirring frequently until the sugar is dissolved.
The Lime Squeezer
Now for that squeezer you found earlier. We're not embarrassed to say it took us a few tries to figure out this gadget (o.k. maybe a little embarrassed). You'll be a step ahead. The best we can figure is those little holes aren't for the juice to come out of; they are there so that squeezing the lime doesn't create a suction and make it stick in the squeezer. Just cut the limes in half and squeeze them over the blender. Not too many though. 2 limes (four halves) are all it takes for ¾ of a blender of frozen margaritas. Add ½ cup of tequila, ¼ cup of triple sec and 4 tablespoons of simple syrup or 4 heaping tablespoons powdered sugar (more or less to taste). Didn't bring your measuring spoons with you? Just give a generous guess, hey, you're on vacation. Last up is ice to fill the blender ¾ full, then blend away. If you need to add a little extra sugar here, you still can, then gently stir or blend in. Are you more of an "on the rocks" purist? Play around with the above recipe, all the great bartenders do.
Complimentary Food
If you want food to go perfectly with our perfect margarita recipes, check out our Yucatan food post
The Cadillac Margarita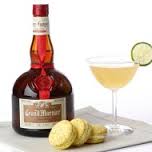 This recipe is still in the perfecting stage, but it is pretty close. Use the recipe above. Make it on the rocks. Add a little water if the lime is too much.
BUT use Grand Marnier instead of Triple sec and use a top shelf clear tequila like Azul . and add just a tiny splash of orange juice. Yes I said tiny splash. this is the best of our perfect margarita recipes.
if we manage to perfect it further , we will update our perfect margarita recipes in a future post .