Twenty Five Things To Do at the Vidanta Nuevo Vallarta Resort
We have stayed at Vidanta Nuevo Vallarta resort well over ten times, and we have found new things to do every single time. This blog post will talk about 25 of those things, but there are many more.
1. The Lazy River
Even when we are staying in a Grand Luxxe or a Loft suite, we make at least one pilgrimage to the Grand Mayan Water park for a few laps around the Lazy River. There is something mesmerizing about floating aimlessly for a 20 or 30 minutes. Furthermore, depending on your buoyancy, you can float with or without a tube. If you are with kids, make sure to notice when one of the waterfalls is coming up. They will inevitably try to manipulate it so you pass under the deluge. That will make it decidedly less relaxing. We made a video if you want a better idea.
2. Ping Pong
The joy squad is always coming up with new fun activites, but ping pong is always an option all day long and there is often a tournament if you want get a bit more competitive. Bring your own paddle if you want a good one.
3. Kid's Club
Call me a bad parent, (now bad grandparent) but one fun activity involves leaving your kids at the kids club with organized fun while you can head off for an hour or two of peaceful bliss. Meanwhile, the kids get to participate in a myriad of fun games and crafts. In the end, everyone is happy.
4.Water Slides
There are little slides for little kids at the kids club and a big slide down the Mayan pyramid. This big 65 year old kid does the big slide almost every time he is in the area.
5. Playing in the Waves
Vidanta Nuevo Vallarta has almost a ½ mile of beach with fun waves to play in. If it is a particularly windy day, you can rent boogy boards or even a small catamaran. The waves here are not big enough for surfing. However, if you want to surf, you should plan a day trip to Sayulita.
6. Beach Walking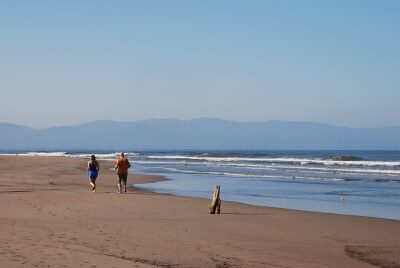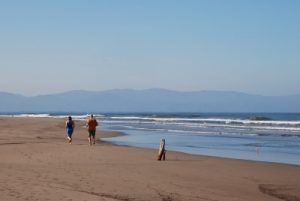 Do not forget to wind down and enjoy simple stroll down the beach. First thing in the morning or just before sunset are particularly perfect moments. Or any time in between. In summary, just go walk the beach.
7.Beach Volleyball
Almost every day there are pickup beach volleyball games where everyone is welcome and a good time can be had by all. There are specific times on the activity calendar make your planning easy. Be forewarned, however, that you should assess how resilient your body is these days before you decide to dive for that difficult shot.
8. Water Aerobics
Every day in multiple pools you can find people being led in water aerobics. People of all ages jump in to limber up, but to be honest, there is generally more gray hair in that part of the pool.
9. Mexican Cooking Lesson
You love to eat it. So why not learn how to make a classic like guacamole. If I can be so bold, the last time I watched, they didn't add cumin. Tsk. Tsk. You must add cumin. On the plus side, he will teach you how to pick a perfect avocado and how to cut it up like a professional.
10. Learn a Little Spanish
When in Rome….. Well you're not in Rome, you are in a Mexican paradise , so better to learn a few handy phrases in Spanish. There is a class at different areas pretty much every day. At a minimum, they will help you not sound so much like a gringo. Although, I have friends who never did figure out how to roll their "R's". I try hard not to roll my eyes. LOL.
11. Texas Holdem'
The Joy Club staff sponsor various board and card games including Texas Holdem' . So bring your poker face and sit down for a good time.
12. Le Petit Chef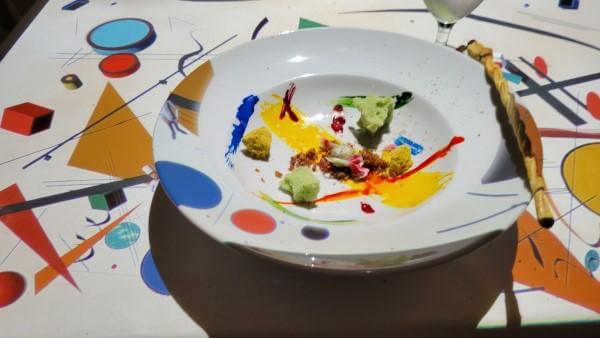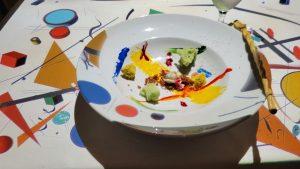 While it's not the cheapest activity on the resort, Le Petit Chef is a perfect combination of creative and delicious food and high tech entertainment. There are two sittings most nights, but check with your concierge early to make sure you get a spot.
13. Sun Bathing
You probably don't want to go home from a tropical vacation with absolutely no tan. Fortunately, there a about forty thousand spots to relax in the sun with someone always near to provide margaritas and nachos. Remember , this is not Europe, so do keep your swimsuit on.
14. Sea Turtle Rescue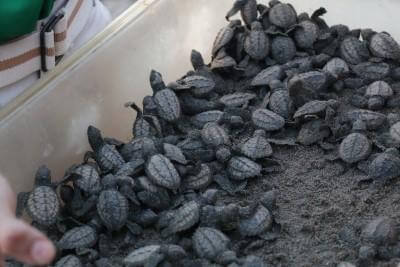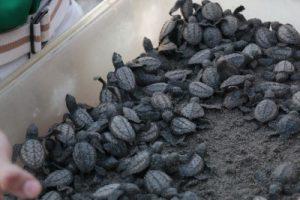 If you have a little passion for ecology, check with the concierge if it is the right season for turtle releases. Vidanta participates in sea turtle rescues and you can witness the release at sunset dozens and dozens of baby sea turtles on the edge of Banderas Bay. These are not as well advertised as other activities, so you might have to ask a couple of different places to get the whole story.
15 Live Music and Entertainment
Every night, there is live entertainment at the Santuario. Check the schedule and find the type of music you will love. There are also dancers, acrobats and other types of performers. There is traditional Mexican dance at least one night per week.
16. Festival Mexicana
Once a week, Vidanta is a Mexican festival on the beach. You can get ticketes from the concierge. When the sun gets low, you can expect a fabulous buffet of classic Mexican food. The food is accompanied by Mexican music and Mexican dancers. You're not going to want to miss it.
17. Laser Light Show
If you are going to be in Mexico, you need to have Mexican food. Let me recommend La Cantina, since you will get the bonus of a laser light show. They will make a Mezcal cocktail at your tableside. But the most important part is the Laser Light Show. This is an extravaganza you need to see at least once during your stay. You can see it from the nearby Gong restaurant, but the angle is wrong and you can't see the details . La Cantina is your only option.
18. Massage
If you love a good massage, make sure you rent a Grand Luxxe or higher unit and make sure the owner contract we use has free massages included. The Luxxe spa is relaxation heaven. You can pay to upgrade from a relaxing or Swedish massage to a variety of options including the painful and wonderful deep tissue massage that I always do.
19. Spa Day
For many people (mostly women) , spa treatments like manicure, pedicures and body wraps are synonymous with relaxing, memorable vacation. Vidanta has you covered with classic and creative spa treatments at both the Grand Mayan Brio Spa and the Grand Luxxe Spa known as The Spatium. They both offer main stream and exotic treatments for every need,
Even if you don't get a massage or a spa treatment, check out the free reservation you can make in the spa wet area.
20 Golf a Round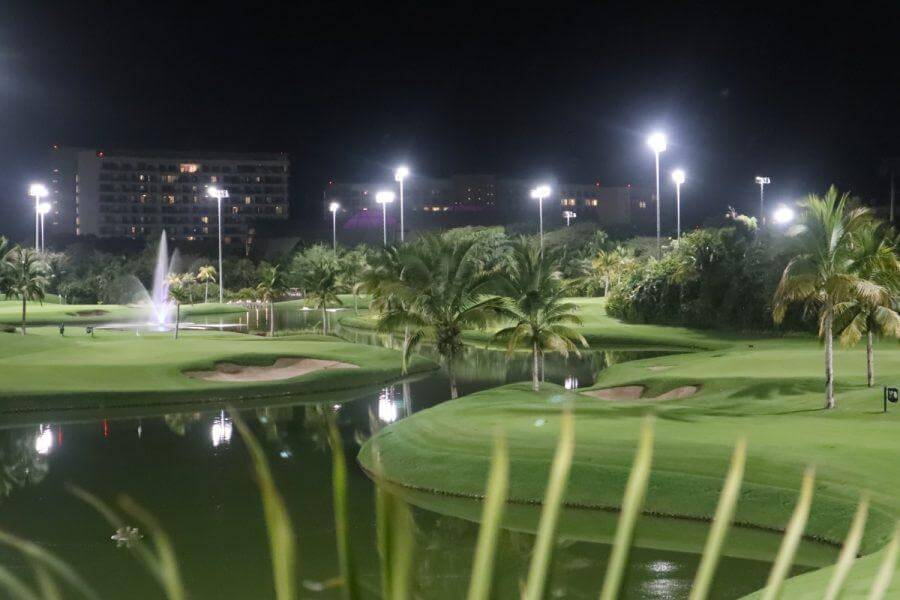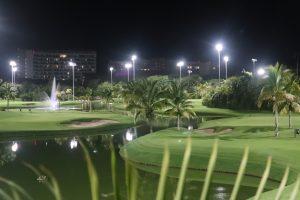 Golfers will be happy to hear that there are three quality golf courses right on the resort. There is the Jack Nicklaus designed Nayar Course, complete with a Jack Nicklaus academy. Across the river is a Greg Norman course and the third on is a challenging par three course that is lit up at night. It winds through the resort and seems to have as much water as grass. It is aptly named " the Lakes" If you plan on golfing, you will want to consider renting a higher end unit from one of our members. Many rental weeks include free rounds of golf. If you plan on more than one or two rounds, it's worthg bringing your golf clubs as extra luggage. Club rental is a bit pricey.
21 Run Forest Run
Runners will be happy to know there are running routes pre-planned throughout the resort. Of course you can make it more challenging by including a loop on the beach. Those of you that run longer distances than 3 miles or so will have to find a way off the resort. As an alternative, running down the beach is a good option if you are in fabulous shape.
22 Exercise Gyms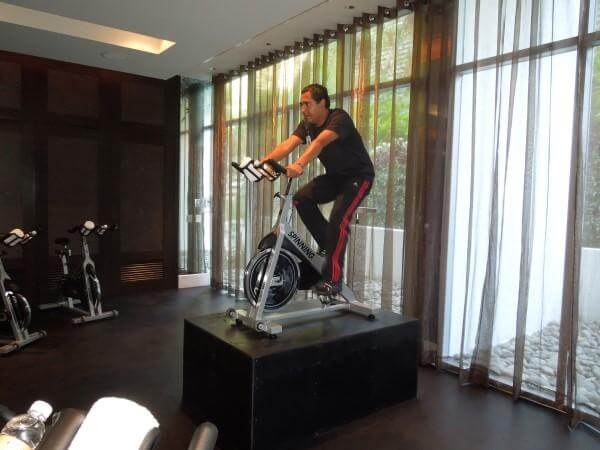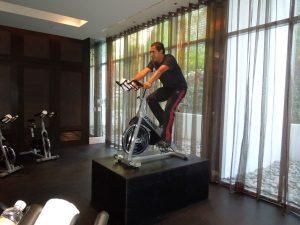 Should you want to stay in shape or burn off a few of those extra calories from the myriad of restaurant choices, there are three gyms well equipped gyms on the resort. One is in the Grand Mayan near the spa. The second is in Luxxe building two for Luxxe , Spa Tower and Loft guests. The latest is across the river in the Estates. It is exclusively for guests in our most stunning accommodations, the Estates and the Empire Estates.
23. Tequila Tasting
You can choose a formal tequila tasting experience. We haven't tried it but people seem to enjoy it. We have enjoyed an informal alternative of sitting at the Luxxe Bar in the Luxxe I building foyer. Sit right at the bar and the mixologists here are very knowledgeable and will help you choose tasting options from different brands. If you have one you like then they can help you find similar and better options.
24. Endless Pools
The Next to the last in our list centers around the innumerable pools. This actually is a bonus item, because there at least a dozen things to do . You can use them for a lazy swim, a place to intermittently cool off, or some rowdiness with your kids or grandkids. Check out an illustration from our own family below.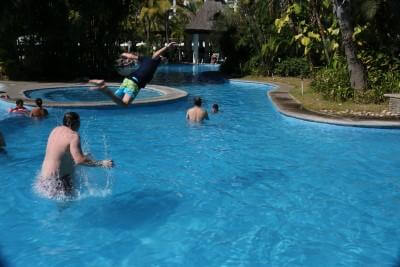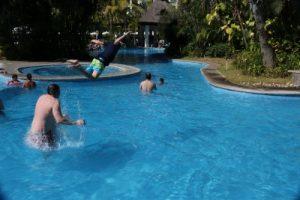 25. Relaxing
This final one is the most important. Whether you do the MayanRental Ritual around the pool or find a hammock (as I am thoughtfully demonstrating below), you need to be sure to log some serious rest and recuperate time during your vaction.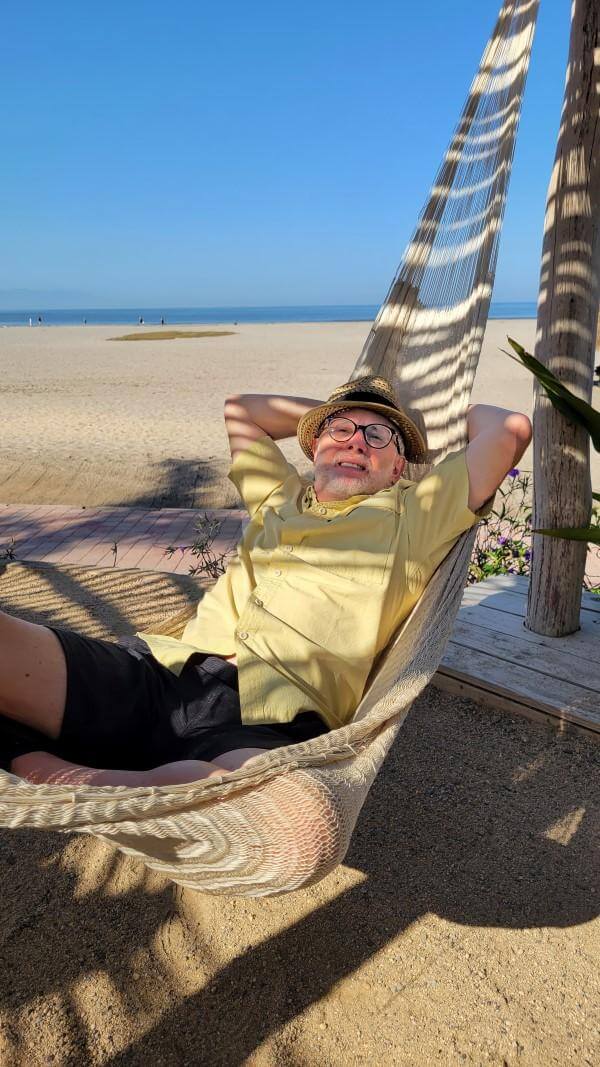 There are many more things to do , but a post can only be so long. You can check availability for the week of your choice on our easy availability form. We do hope these 25 things to do on the Vidanta Nuevo Vallarta Resort have been helpful to you.